A wilderness gem right in the middle of London
The Parkland Walk is a 4.5 mile (7.2 km) walk, following a disused railway line from Finsbury Park, through Highgate to Alexandra Palace. You can easily reach it from Finsbury Park station (Victoria Line) or Highgate (Northern Line).
Here is a lovely documentary showing some of the sights and the importance of the route to dog walkers, cyclists, walkers and locals.
The route is maintained by the Friends of The Parkland Walk.
In fact, it's a linear nature reserve; "a wilderness gem right in the middle of London", as the presenter in this clip describes it:
Although the walk finishes abruptly at Muswell Hill road, you can extend the walk by crossing and heading through Alexandra Park (just below the famous Palace) and finishing at Alexandra Palace train station, or heading a little further to Wood Green (Piccadilly Line).
(Walking to Wood Green would be along busy streets; it's only worth doing if you really prefer to get to Wood Green than Alexandra Palace station).
The view from Alexandra Palace is one of the best in London and certainly not to be missed (it's one of my ten 'must do's' for London hikers).
Extending to Alexandra Palace would add another 1.5 miles (6 miles).
Extending to Wood Green would add another 2 miles (6.5 miles).
Here is a lovely quick run through on a wintery day:
Further Reading:
---
Sponsors
Escape London - click here now!
Welcome! Do you live in London and love walking? I help frustrated London-based hikers to get out on the hills by providing inspiration, ideas, practical advice and encouragement. Satisfy your hill walking cravings! Read more here

Latest Updates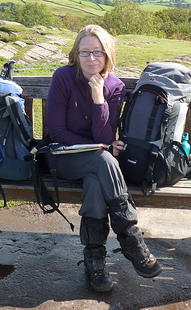 As Seen In: