The Best North Downs Way Views from Google Trekker
The Google Trekker project recently completed a 'streetview' style walkthrough of the whole of the North Downs Way!
Here are some of the best viewpoints from the trail as seen in Google Trekker.
---
1. St Martha's Hill, Guildford
Nearly at the top…
View from the top:
Walk here on the Guildford to Boxhill & Westhumble section of the North Downs Way
2. Box Hill
Box Hill is a classic viewpoint and a must do for any London walker.
There are many lovely paths around the main viewpoint with wonderful views south.
Walk here on the Boxhill & Westhumble to Merstham section of the North Downs Way
3. Wye Crown
A short climb up from the village of Wye brings you to Wye Crown, a chalk crown carved into the hillside to commemorate the coronation of Edward VII.
From here you can see the North Downs stretching away into the distance, and if you've been walking the trail, appreciate just how far you have come.
Grassy paths lead on over the lovely, quiet Wye downs.
4. Devil's Kneadingtrough, near Wye
Again on the Wye section, the trail takes you past another significant viewpoint, the Devil's Kneadingtrough, a 'dramatic coombe' and nature reserve.
5. White Cliffs of Dover
As you approach the end of the trail on the Hollingbourne to Dover loop, the iconic white cliffs come into view.
6. Canterbury Cathedral
The Hollingbourne to Dover via Canterbury loop is another option for finishing the trail.
Of course, you get to see the beautiful Cathedral as you head out on the last few days of your walk along this wonderful trail.
---
---
If you liked this you might also like…
---
Sponsors
Escape London - click here now!
Welcome! Do you live in London and love walking? I help frustrated London-based hikers to get out on the hills by providing inspiration, ideas, practical advice and encouragement. Satisfy your hill walking cravings! Read more here

Latest Updates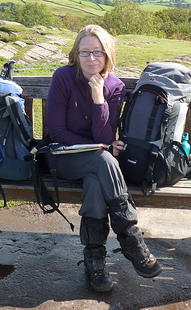 As Seen In: