From London to the Summit of Bowfell
It was September and it was Rambling Man's birthday in a couple of weeks.
We had a chat about how to celebrate it.
The usual 'I'm not bothered, just go out for a meal I suppose' had lost a bit of its appeal.
So we came up with a new plan instead.
What better way to spend your birthday than on the summit of Bowfell in the Lake District?
He'd never got round to climbing it but was intrigued by one of Wainwright's favourite fells.
So we booked a long weekend in the Lakes.
BRING. IT. ON.
We each booked the Friday off work, and here's what we did.
Traveling up
We travelled up from Euston on the train on a Thursday night, arriving in Windermere in the dusk.
Is there anything better than leaving London after work and knowing you're heading to somewhere completely wonderful that evening?
We got a taxi from Windermere (because there are no buses late in the evening!) to Ambleside YHA, where we would be staying for the next two nights (we'd managed to book a private room there – woohoo!)
The next morning, Friday, we walked into Ambleside, picked up a sandwich and hopped on the bus into Langdale. Our plan was to walk up Bowfell, and if the weather was good, maybe some more fells too.
It was ominously quiet as we stepped off the bus, and we looked at the cloudy summits ahead.
How did it pan out?
Well it's all captured on video. And like any good walk, it ends in a classic 'must do' hikers' pub.
We went back on Sunday afternoon, after two fantastic days of walking.
Fortunately on the Sunday the weather was much better, and we enjoyed views like this on our walk to Windermere train station…
Thanks to RamblingMan for the video!
Enjoyed this post? You will LOVE my free Hiking in Britain email series <--- CLICK HERE to find out more and sign up for FREE: OR pop your details in the box below!
Sponsors
Escape London - click here now!
Welcome! Do you live in London and love walking? I help frustrated London-based hikers to get out on the hills by providing inspiration, ideas, practical advice and encouragement. Satisfy your hill walking cravings! Read more here

Latest Updates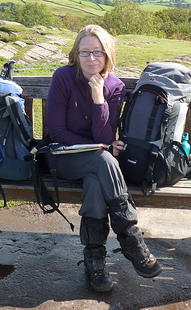 As Seen In: