3 London campsites in Zones 1 – 5
With help from Jade Attwood, we suggest three special places for a night under canvas.
---
Living in London, it really is hard to go back to basics. Surrounded by skyscrapers, living in busy streets, and with a non stop lifestyle, there is seldom a chance to really escape to nature (apart from the odd park of course).
For those who love camping, a long journey is usually necessary to find a spot to pitch up. With travel time included, camping trips out of the city usually mean taking some time off work to really enjoy your time.
But what if you didn't have to go so far afield to have a picturesque night under canvas?
Here are three top class campsites, in zones 1-5 to get your fill of nature and really relax on your camping holiday.
1. Abbey Wood
Nestled in South East London, is the quaint Abbey Wood site. Within Zone 4, the site boasts a quick 35 trip by train from Abbey Wood station into central London.
For those that want to fully escape the hustle and bustle of central London, take in the sites around Greenwich. Full of quirky pubs and restaurants, Greenwich is a metropolis in itself, with a distinctly heritage feel.
A short walk from the site you'll come across the National Maritime Museum, a option for those looking to explore some nautical history. Or take in the sun on a relaxing river cruise to Tower Bridge, Westminster, or even Kew, for a truly nature filled day out.
2. Lee Valley
Accessible from Ponders End (Zone 5) or Edmonton Green (Zone 4), lies Lee Valley Campsite in Edmonton. A highly modern site, with its own cinema and ice rink, it's a haven that seldom needs to be left for the duration of your stay.
With everything on site you would need, this site is one which you can truly immerse yourself in, away from the throes of tourists in central London.
With beautiful cycle and walking riverside routes to sample, there will be plenty of opportunity to fully embrace the great outdoors, and entertainment in the evenings to make your stay even more enjoyable.
Perhaps you enjoy a spot of golf? The site even boasts its very own golf course, perfect for those who like to take their walks while enjoying their favourite sport.
3. Crystal Palace
Lastly, but by no means least, is the the Caravan Club's Crystal Palace site (nearest station Crystal Palace, Zone 3). Perfect for those who want a country retreat but not feel completely isolated from the city, a quick trip on the number 3 bus will take you straight to Oxford Street, via Brixton and Trafalgar Square.
Situated right next the beautiful and expansive Crystal Palace park, once home to the palace itself, the pleasure gardens are perfect for a relaxed walk or an evening stroll. Crystal Palace is also home to many up and coming eateries, a whole new area to explore for enthusiastic foodies.
So there you have it, three options to escape the city and embark on your very own camping mini break.
Camping in your own tent is a great cost-cutting alternative to a expensive European city break, and takes nowhere near as much hassle. All that is left is to prepare everything you need, to make your trip as stress free as possible.
Aside from your tent and camping gear, it's important to invest in some good quality tent insurance: for every camping eventuality.
All that is left is to grab your Oyster, hop on the tube, and escape the city (well almost!).
---
---
Sponsors
Escape London - click here now!
Welcome! Do you live in London and love walking? I help frustrated London-based hikers to get out on the hills by providing inspiration, ideas, practical advice and encouragement. Satisfy your hill walking cravings! Read more here

Latest Updates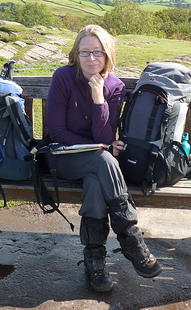 As Seen In: