Focus on… Box Hill (Surrey)
Box Hill has featured on many of my travels. I first encountered it on the North Downs Way and also in the Time Out Book of Country Walks. I even went there for a Boxing Day walk, and I was reminded of how much there is to explore and how quickly and easily you can get there from London.
You may have seen the area featured in the Olympic cycling events, and the Hill is a popular area for cyclists, who challenge themselves with a stiff climb up the zig zag road, as well as walkers.
At the top is a National Trust cafe which sells massive 'revival' flapjacks (to revive the tired cyclists who've just slogged up the hill).
Andrew Wright is Countryside Manager for the National Trust covering the Box Hill area. I asked him to tell us more about the area (I couldn't resist chipping in with a couple of my comments too).
What does a 'Countryside Manager' do?
I manage a team of rangers to care for our specialist nature conservation habitats whilst welcoming and offering our visitors a very enjoyable time with us.
The best bit about my job is introducing people to fantastic places and the natural world.
Why should Londoners visit Box Hill to go hiking?
It's very easy to get to from London, just a short train journey, but feels a million miles away in terms of natural beauty, breathtaking views, and so many different paths and walks to explore.
[Catherine: The area is a famous viewpoint in Surrey with many historical connections.]
Can you describe a few of the hikes available?
We have four way-marked trails at Box Hill:
A play trail for families.
The Hilltop Stroll is a short level walk for those who just want 20mins to half an hours fresh air.
The Stepping Stones Walk is a little more challenging and takes you down to the river, which people always enjoy, including the stepping stones crossing if the water's not too high.
Then there's the Box Hill Hike for the more serious walker. This takes in Box Hill and Headley Heath with an optional pub-break and should last the best part of a day.
In addition, The North Downs Way runs through Box Hill and serious walkers could do sections of this trail, say Box Hill to Reigate or even Oxted and take the train back into London from these towns.
How can Londoners get to Box Hill by public transport?
Train is probably your best and quickest bet. There's a little station at Box Hill/Westhumble or the mainline one is in Dorking. This offers you the flexibility of longer walks without the necessity of organising a circular trail back to Box Hill car park.
[Catherine: It's just 50 minutes from Victoria to Boxhill and Westhumble station. From there, it's 1/2 a mile across the A24, across some stepping stones and up the steps to the top of the hill (to get to the stepping stones, head for the North Downs Way).]
Cycling is the other top way to get to Box Hill. The Zig Zag climb featured heavily during the 2012 Olympic Road Race with the men climbing it nine times and the women twice.
People are welcome to arrive by car. Parking costs £3.50. There is a bus service to Box Hill (route 516 from Epsom). [Catherine: you can find the timetable here]
The Surrey Hills are right on London's doorstep. Check them out for yourselves!!
I remember the (in)famous Box Hill challenge which is walking up all the steps without stopping…
Those steps from the stepping stones are tough all right!
[Catherine: thankfully there are lots of viewpoints over the nearby Denbies vineyard (which is also worth a visit in itself) to use as an excuse for a breather!]
Another challenge that is also tough is the walk up to Mickleham Gallops, one of my favourite bits of Box Hill. It's like a long grass runway on a ridge where hardly anyone goes. It's a fab spot.
Where can people find out more about Box Hill?
Without doubt, our website is the best place to go. We hold events and there are some downloadable walks.
I am also happy to chat on twitter @AndyBoxHillNT if you have any queries.
All photographs are courtesy of Andrew Wright.
Sponsors
Escape London - click here now!
Welcome! Do you live in London and love walking? I help frustrated London-based hikers to get out on the hills by providing inspiration, ideas, practical advice and encouragement. Satisfy your hill walking cravings! Read more here

Latest Updates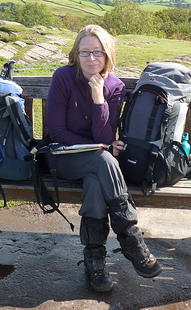 As Seen In: