Focus on… Charlbury (Cotswolds)
Charlbury in the Cotswolds can be easily reached by train from Paddington. As the town recently gained 'Walkers are Welcome' status, I asked local resident Richard Fairhurst to tell us more about the area.
1. Why should Londoners visit Charlbury?
It's the Cotswolds without the crowds – but with the train service. Charlbury has the honey-coloured cottages, the rolling hills and the dry-stone walls that characterise the Cotswolds, but without the tourist coaches that bedevil Bourton, Stow and Broadway.
In fact, you don't need to see a coach at all, because Charlbury has a more-or-less hourly express from Paddington – not bad for a little town of just 3,000 people. It's not the only way in which Charlbury punches above its weight: the pubs regularly sail off with CAMRA awards, several annual festivals have made the town their home, and this year, it's become Oxfordshire's first 'Walkers are Welcome' town.
2. What's special about Charlbury in terms of hiking and scenery?
What introduction do the Cotswolds need? Hilly enough to be interesting, but not so much that you'll be perpetually out of breath, they've long been a popular walking destination. The postcard-perfect villages are part of the appeal, sleepy little places where every pub seems to have an old Labrador dozing in the corner. But this, the eastern edge of the Cotswolds, is the path less travelled, its quiet wooded footpaths rarely troubling the guidebooks.
You might be thinking "I bet the houses cost a bomb" and sure enough, Charlbury is perilously close to the stomping ground of the Chipping Norton set: David Cameron lives just three miles down the road. But (whisper it) Charlbury itself is rather more liberal than its surroundings might suggest, and the PM himself has been known to bemoan the rebellious streak of his local town, half amused, half exasperated…
3. How can Londoners get to Charlbury by public transport?
The journey from Paddington takes about 1hr15, on trains heading for Worcester and Hereford via Oxford. Most of the trains are comfortable High-Speed Trains, though there are a few local rattlers at weekends. You can use a Network Rail Card if you have one (if you have an Oystercard season ticket – a gold card – this counts as a Network Rail Card), keeping the return cost down to £17.50 (or £20 for the weekend).
Charlbury's station itself is a gem, a little Italianate building à la Brunel. Quite how it survived the axe is a mystery, but it might have something to do with a former British Rail chairman who lived nearby!
4. Best weekend?
An ideal Charlbury walking weekend starts on the Friday evening train out of Paddington. As the train passes Oxford the atmosphere gets decidedly more relaxed: you might even get the guard who fancies himself as a tourist guide, telling you about Churchill's funeral in nearby Bladon. Charlbury is just two stops further on, and you'll catch last orders in the Rose & Crown before retreating to your accommodation.
Saturday's walk takes you through Cornbury Park and the ancient Wychwood Forest – once a hive of banditry and drunken festivals, now a private estate with a much-prized circular walk through its grounds. Look out for deer, red kites and woodpeckers. Stop for lunch at the thatched Plough Inn in Finstock, and enjoy a moment's silence in the medieval chapel at Shorthampton with its primitive wall paintings. The walk back to Charlbury follows the lovely Evenlode valley, the peace only disturbed by the occasional passing train.
A meal in the Bull or the Bell and a good night's sleep will refresh you for Sunday's walk. Being on a train line has a great advantage; one-way walks are easy. Follow the Oxfordshire Way up the valley towards the next station at Kingham; or wander via the ancient lane to Stonesfield, and the nearby Roman villa, on the way to Hanborough. Come back to Charlbury to pick up your bags – and maybe enjoy a farewell pint before you go.
5. Where can people find out more about hiking in Charlbury?
The Charlbury town website (at www.charlbury.info/walking) has maps and instructions for several of the most popular local walks, plus details of accommodation and other facilities in the town. You can also find walks at the Oxfordshire Cotswolds website.
Charlbury's bookshop, Evenlode Books, is open on Saturday mornings and has a wide range of walking guides.
---
Richard arrived in Charlbury 14 years ago and has been drawn more and more into town life every month since. He works as a freelance cartographer and writer and is currently hatching a new cycling website, http://cycle.travel/. He is usually to be found at the Rose & Crown with a pint of cider, trying to elbow the resident Gordon Setters off the comfy chairs.
All photographs courtesy of Richard Fairhurst.
Sponsors
Escape London - click here now!
Welcome! Do you live in London and love walking? I help frustrated London-based hikers to get out on the hills by providing inspiration, ideas, practical advice and encouragement. Satisfy your hill walking cravings! Read more here

Latest Updates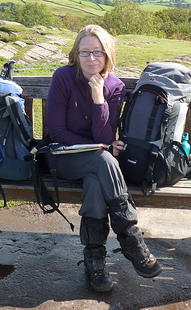 As Seen In: