Focus on… The Isle of Wight
We all know the Isle of Wight as the place Londoners go to escape a triffid invasion. But have you considered it for a hiking weekend?
I asked Yuko, Nat and David, members of the Isle of Wight Long Distance Walking Association, to give us the lowdown on the area.
1. Why should Londoners visit the Isle of Wight?
Yuko: You can travel to other hills (e.g. Chiltern Hills) or beaches (e.g. Brighton) just as easily from London, but the Isle of Wight is the best place to combine the two. It's easily accessible, and yet so detached from the crowded and busy life in London.
For walkers, especially, this is paradise as the walking paths are much better maintained than in other popular walking spots around London. For some reason, the weather is always better there than in London! People on the island are the friendliest I have seen to visitors. They go out of their way to help foreign travellers get the best out of their visits.
Food and drinks are very good and wholesome, if not particularly adventurous. Finally, accommodation is very much cheaper than in other popular places to visit from London and it is reasonably easy to get around the Island using Southern Vectis Bus, which offers 1, 2 and 7-day passes.
2. What's special about the Isle of Wight in terms of hiking and scenery?
Yuko: The combination of hills and beach, the well maintained paths, the weather, and the food and drink!
The beaches and cliffs in particular are just so spectacular, and the wetlands around New Town would be a paradise for wild bird/fowl lovers.
I also believe the villages in West Wight (Winkle Street, Calborne, Shalfleet, etc) offer beautiful and quintessentially English scenery.
Nat: We also have a walking festival!
There are so many things you can do along the way, or if you don't want to walk, including a garlic and a lavender farm, llama trekking, a monkey and owl haven, festivals (3 main ones and include music, cycling and walking) including a garlic festival, a Maize maze and an annual scarecrow competition! We have zoos, parks, forts, castles, carnivals and Osborne House which was Queen Victoria's and it's where she died. We also have an arts scene. The annual scooter rally in Ryde is a wonderful sight and ends with a ride out on the last day consisting of around 5,000 scooters. Quarr abbey is a lovely place to visit, it's a beautiful location (also lots of homemade cake). Very peaceful and you can feed the pigs.
3. How can Londoners get to the Isle of Wight by public transport?
Yuko: There are several options:
Train from Waterloo to Portsmouth Harbour (1hr 40min), change to FastCat catamaran service to Ryde Pier Head (22min). Return fare, including the boat £60.50. Bicycles allowed.
Train from Waterloo to Portsmouth and Southsea (1hr 35 min), change to Hovercraft to Ryde Esplanade.
Train to Southampton and Red Funnel Ferry to Cowes.
Nat: Alternatively you can take the National Express coach combined with Hovertravel and that normally takes just over two hours from Victoria (including Hover).
I would also add that arriving at Ryde means you can travel up the pier on an old London tube train which I still love after living here for 4 years!
3. Best weekend?
Yuko: On Friday evening, catch the 17:30 train from Waterloo and travel to Ryde (19:37 Pier Head). Stay in Ryde.
On Saturday. Either Walk (via Nunwell and Bembridge Trails) or take a bus to Newport, follow the Tennyson Trail to The Needles, and walk over Allum Down and stay in Totland.
On Sunday. Walk along the coastal path back to Ryde and catch 17:45 catamaran to return to Waterloo at about 20:15.
Alternatively, you could walk the coastal path on the first day from Ryde to Ventnor, have a lovely evening in Ventnor, and walk back Stenbury Trail, Yar River Trail and Nunwell Trail to return to Ryde on Sunday.
I still think that for anybody visiting the island for the first time, The Needles are a must.
4. Where can people find out more about hiking on the Isle of Wight?
David: There are a couple of coastal walking guides available, but both of them are quite out of date and difficult to use. Therefore my partner (Simone) and I hope to publish our own spring-bound version this October. Look out for the Complete Isle of Wight Coastal Walking Guide.
You can download PDF leaflets to the various walking trails on the Visit the Isle of Wight website. Others are available at numerous tourist outlets and other shops on the Island.
Nat: If you're interested in cycling, this website has more information.
The Isle of Wight Long Distance Walkers Association (IOW LDWA) seeks to combine longer distance walking with sightseeing of our beautiful Island, and a chance to meet like-minded people. Our walks cover distances from 10 to 73 miles, and a 100-mile walk is also being planned. Most of the walks are quite casual, with lots of beaches and bars. Other walks leave less time for making sandcastles!
The Isle of Wight Group also have their very own 'Beaches Bars and Blisters' Facebook page.
Two photos by Nat Nelson, used with permission.
Sponsors
Escape London - click here now!
Welcome! Do you live in London and love walking? I help frustrated London-based hikers to get out on the hills by providing inspiration, ideas, practical advice and encouragement. Satisfy your hill walking cravings! Read more here

Latest Updates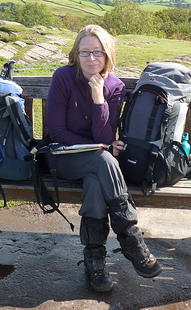 As Seen In: