Focus on… The New Forest
Fancy a bit of ancient woodland, wild ponies, and gentle rambling? Of course you do!
Pete Carpenter, from www.new-forest-national-park.com introduces us to The New Forest National Park.
1. Why should Londoners visit the New Forest National Park?
For Londoners looking for some relaxed and non-strenuous hiking, the New Forest National Park is an excellent, and very convenient, place to head for.
Located just 90 miles or so from the centre of London, the area formerly just known as the New Forest was given National Park status in 2005, becoming Britain's smallest National Park at around 220 square miles (some 70 square miles larger than the New Forest area, pre-National Park status).
Originally a Royal Hunting Ground, designated as such by King William I in 1079AD, the New Forest has long been recognised as a very special place, and although Royal hunting trips to the Forest have long been banished to the history books, the area and its people continue to relish in the incredible history and heritage so unique to this part of Southern England.
2. What's special about the New Forest National Park in terms of hiking and scenery?
For hiking, the New Forest really is a truly magnificent destination. There are few restrictions for hiking in the Open Forest (all Forest land that is not privately owned), with several hundred miles of Forestry Commission gravel tracks to explore, along with countless miles of smaller tracks and paths that criss-cross the area.
The flat nature of the land means that walks are easy, relatively speaking, and if you're used to fell walking or hill climbing then you're in for a very pleasant stroll when it comes to walks in the New Forest!
There are three distinct types of landscape to enjoy in the Forest while you're hiking; the Ancient and Ornamental Woodlands, with their centuries-old oak and beech trees, the lowland bogs and mires and the open heathlands, for which the New Forest is globally recognised.
Paths across the heathlands are often sandy and very pleasant to walk on, with superb views over the heather-covered land. If walking through the Ancient and Ornamental Woodlands, it's likely that you'll be walking on one of the many Forestry Commission gravel tracks, or perhaps a grassy ride lined with trees of various species.
The bogs of the Forest can prove a challenge to the walker, especially after periods of rain. There isn't always an easy way round them, but if you stick to a recognised path then you shouldn't encounter too many bogs on a typical walk. Just do bear them in mind, and be prepared to get muddy boots now and again!
Walks in the New Forest can range from a quick half-hour stroll to a full day's hike. There are several graded walks (notably the Tall Trees Trail on Rhinefield Ornamental Drive, and the walks at Bolderwood), but the majority of walkers just take to the gravel tracks with a map and a GPS. Often walks will start and end at car parks or pubs, of which there are some beautiful ones throughout the area (some of my personal favourites can be seen on my website).
3. How can Londoners get to the New Forest National Park?
The south-central location of the New Forest National Park makes it an ideal destination for Londoners. From the centre of the City, an easy 90 mile drive down the M3 and M27 motorways will see you arriving in the heart of the National Park – in terms of time, that's under two hours.
A trip to the Forest by public transport is equally as easy, with scheduled coach and train services running on a daily basis. National Express coaches (from London Victoria) and South West Trains (from London Waterloo) are the two main carriers operating services, with various stops and stations across the New Forest.
The village of Brockenhurst hosts the main railway station, with additional stations at, from east to west, Totton, Ashurst, Beaulieu Road and Sway.
The main National Express coach stops are at Lyndhurst, Lymington and Ringwood (all main New Forest centres) plus there are additional coach stops throughout the area.
4. Best weekend?
If you are heading down to the New Forest, your first port of call should be the 'unofficial capital' of the area, Lyndhurst. The coach park is located on the eastern edge of the main car park, and also adjoining the car park is the New Forest Centre. This is the main tourist information centre for the area, and is also home to a very good museum. If you can spare an hour, it's well worth the visit.
Given that Lyndhurst is the main centre for the New Forest, buses and taxis all run regularly from the town. There is also an open-top tour bus running the New Forest Tour, this is an excellent way of getting around the Forest but several different routes are available so check the New Forest Tour website for route details and schedules.
For accommodation, some pubs do offer rooms but if you can't get into one then there is no shortage of B&B and hotels in the area, with something to suit everyone's pocket. Do be aware, though, that the area does get extremely busy in peak times, so don't leave any bookings to the last minute if visiting the Forest in school holiday time.
A true favourite is a walk that starts close to the Royal Oak pub in the small hamlet of Fritham, and follows the Forestry Commission tracks through some beautiful Ancient and Ornamental Woodland, before exiting it out onto open heathland. The walk is featured on my website, but this walk can easily be extended out to the west by keeping on the main track and heading out to Ashley Range, an area used in the Second World War for bomb testing. Many bomb craters can still be seen here, as can the old target markings.
While on the subject of WWII New Forest history, walks around the disused wartime airfields of Stoney Cross, Holmsely and Beaulieu are very popular, and if Second World War history interests you then a visit to these sites is a must. Although there are no airfield buildings remaining at any of the sites, features such as the aircraft parking bays, runways and taxiways can still be clearly seen. The long road running NE-SW across Stoney Cross is part of the main runway, where British RAF and American Air Force bombers once took off and landed. This particular airfield was home to President Obama's grandfather for a short time during World War Two!
If you intend taking a tent with you on your hiking trip, there are ten campsites which are situated on the Open Forest (camping outside of a campsite is not permitted). These sites are managed by 'Camping In The Forest', in conjunction with the Forestry Commission, and staying on one of these sites is simply the best way to experience the unique atmosphere of the place. Many walks can be done from all of the campsites, with either gravel tracks or other paths giving easy and immediate access to the Forest, in some cases just metres from your tent!
5. Where can people find out more about hiking in the New Forest National Park?
Depending on your hiking preferences and abilities, I have a selection of ten New Forest walks on my website, although none of them are more than a couple of hours duration.
Whatever your hiking preferences, the New Forest offers a truly unique hiking experience for walkers of all abilities. With its easy access from London, it makes a perfect destination for a weekend away.
---
Pete Carpenter was born and raised in the New Forest, and is author of the online visitor guide www.new-forest-national-park.com. His walk suggestions on the website have been well used by visitors to the area, and Pete has even come across people out in the New Forest with a printed copy of his webpages in their hands!
All photographs are courtesy of Pete Carpenter.

Sponsors
Escape London - click here now!
Welcome! Do you live in London and love walking? I help frustrated London-based hikers to get out on the hills by providing inspiration, ideas, practical advice and encouragement. Satisfy your hill walking cravings! Read more here

Latest Updates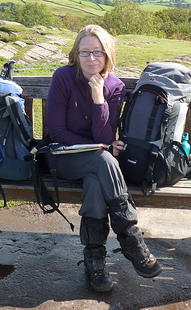 As Seen In: