Focus on… The North Downs Way
I invited Rambling Man – a.k.a Andrew Bowden – to give us the lowdown on the North Downs Way.
(Full disclosure… when I say invited, I actually mean: turned around on the sofa in our house and said "do you fancy doing a guest post for me?")
Over to you, Andrew:
A National Trail on your doorstep
National Trails are wonderful things. Fifteen of them weave their way across England and Wales, with a further four official long distance routes in Scotland. Walk a National Trail and you are on a walk with a mission as it takes you on a journey across the country.
They're great things, but they're often hard to get to, and even harder to break up into sections for walking over many different trips. But what if I told you that for the London walker, there's a National Trail on the doorstep that bucks the trend; one that you can easily do mostly in a series of day walks before catching a train back to London in time for your dinner?
Sound interesting? Well then the North Downs Way may just be for you.
What is the North Downs Way then?
Starting off in Farnham, the North Downs Way is a 150 mile or so walk following the North Downs. It goes through the two Areas of Outstanding Natural Beauty – the Surrey Hills and the Kent Downs – and ends in the town of Dover.
On that journey, you'll get to see ancient monuments, vineyards (yes, England does have some!), some lovely panoramic views and even a pilgrim sat on a bench. Why a pilgrim? Well, the North Downs Way follows a similar route to that taken by pilgrims as they journeyed from Winchester to Canterbury. Many of the roads and tracks on the 'pilgrim's way' are now covered in tarmac, so most modern pilgrims follow the North Downs Way on their journey.
Those interested in military history will also find much to see in the North Downs Way. There's several remnants of World War II, several old forts and on the coastline near Dover you'll even find an old Acoustic Mirror; a large concrete concave dish that was used to detect aircraft before the invention of radar.
The walking is usually easy, often on old drovers tracks, with the odd trek down roads as well. There are some hills dotted around, however they're few and far between. There's even a choice of endings.
It can't all be a perfect as that, surely?
The simple fact is that the North Downs Way is at one point, less than twenty miles south of the City of London. Stand on the right hill and on a good day you can see the Gherkin and Canary Wharf. If you draw a horizontal line across the North Downs, then you're going to hit roads and motorways. And there's more than a few of them. The M20, the M23 and the M25 all appear during parts of the trail, and many days you'll find the sound of road noise in the background. If you want a walk that's going to take you away from civilisation, then you'll want to find somewhere else.
However as well as roads, there are plenty of railway lines crossed too. For most of the trail you'll find a train station with a good service to whisk you home after walking 13 miles or less. This means it's ideal for walking in day-long sections. And despite all the good transport links, the trail seems to avoid visiting too many large towns, preferring to visit smaller towns and villages instead. Only Guildford, Dover and Canterbury buck the trend.
Tell me more about these two different endings then? Which is better?
Just outside a small village called Broughton Lees in Kent, the North Downs Way splits off into two different routes. Both meet again at the end at Dover beach.
The northern route heads through woods and tracks to the beautiful cathedral city of Canterbury. Then it heads through villages and farmland before approaching Dover. This is actually the longer of the two options at 32 miles. It's possible to do in two days, although Canterbury to Dover is 19 miles. If you wish you can split it into three days by stopping at Shepherdswell, which also has a train station. You can do the Northern route in day hikes (albeit some very long ones).
The southern route heads towards the village of Etchinghill through trees and fields. On the second day it goes near Folkstone, passing above the giant Eurotunnel terminal, before heading onto the cliffs for a triumphant entry into Dover. On the way you pass the Battle of Britain memorial and Dover's impressive Drop Redoubt Fort. Although shorter, it's not easy to split into day hikes. You can catch a bus to Folkstone from Etchinghill, but the journey back to London is slow. As such, it's easier to do it in two days with an overnight stay.
Having done both, it's difficult to choose between them. Both count as my favourite sections of the whole trail. At a push though, it has to be the southern route. There's nothing like waking over the cliffs into Dover on a fine day.
Because the two options form a circle, you could even do a lovely four day circular walk. Start at Dover and walk to Canterbury then Boughton Lees on the north section, then go through Wye and towards Folkstone on the south, ending with a fantastic trip along the White Cliffs of Dover. Great stuff.
How long will it take, and when should I do it?
All in all, you're looking at 9 to 10 days to walk the whole thing, regardless of whether you take the Canterbury or Folkstone routes. If you're really up for it, you can of course do both, which will add on an extra two days.
Because of all those railway stations, it's an extremely flexible route. You can do most of it in day walks, or perhaps do it over a couple of weekends – you just need five to do the whole thing. There is only one section where an overnight stay is necessary, and that's walking from Wye to Dover on the southern route via the white cliffs. You'll need two days to do it, and there's no convenient train station in the middle. However you can break it up by catching a bus from Etchinghill to Folkstone.
If you want to push the boat out, you can naturally do the walk in two day chunks, or longer. Maybe even do the whole thing in one go. There's plenty of B&Bs on the trail, and lots of pubs to celebrate a good day's walking in. If you do decide to feature an overnight stay on your travels, the National Trail website has an excellent accommodation guide and mileage charts.
It's also a great trail to walk all year round. The paths are all good, meaning the North Downs Way is just as good for a stroll in December as it is in July.
But perhaps one of the best things about the North Downs Way is that you can do a lot of smaller walks, and at the end say you've achieved something bigger at the end of it.
As a London hiker, yes, you could do lots of day hikes, or maybe some weekend walking trips, but at the end of it, you've just done some walks. In contrast, spend ten days on the North Downs Way and you've walked a National Trail. So what are you waiting for? Get on that train and get walking!
Find out more about the North Downs Way over at Rambling Man's blog.
---
Andrew Bowden provides advice on many long distance footpaths, and blogs his walking trips, at Rambling Man.
His book, Rambling Man Walks the North Downs Way is available for Kindle, Nook, iTunes and Google Play for just £1.99.
Sponsors
Escape London - click here now!
Welcome! Do you live in London and love walking? I help frustrated London-based hikers to get out on the hills by providing inspiration, ideas, practical advice and encouragement. Satisfy your hill walking cravings! Read more here

Latest Updates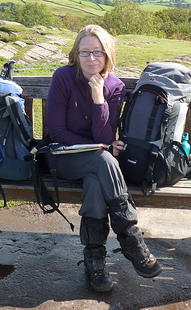 As Seen In: