Focus on… The South Downs
The South Downs is a 'must do' for any London hiker, especially those of us in south London. Only a short distance from the city by train, and suitable for day walks as well as weekends, this is arguably the best walking location within a day's return to London.
I invited Darren from Basecamp: Southdowns to introduce us to this wonderful area, which recently gained National Park status.
1. Why should Londoners visit the South Downs?
The South Downs are unique in the fact that they cover an area of 1,600 km2 offering a landscape as diverse as it is breathtaking. With a length of 162.5k stretching from Eastbourne in the East to Winchester in the West, famously described by Rudyard Kipling in his poem "Sussex", (who loved the Downs and Sussex) as: "Our blunt, bow-headed, whale-backed Downs" they make the perfect area for exploring, walking, hiking or riding.
With cliffs, ancient open downland spaces, forests, rivers, historic towns, unspoiled villages wrapped in history and legends, bursting with flora and fauna, no two miles are the same in this stunning area of outstanding beauty and all this is only an hour and 20 minutes from London. They really offer accessibility for all types of explorers from day walking trips to week long hiking expeditions on the South Downs Way.
2. What's special about the South Downs in terms of hiking and scenery?
"O do you know the downland where the sward is short and sweet,
where gorse grows like a golden flame, and fairies you might meet"
Arthur Becket – Founder of Sussex Life Magazine – Poem from his book considered to be the bible of the Southdowns: Spirit of the Downs
The South Downs offers gentle slopes, rolling open downland suitable for all abilities of walkers and hikers. The more adventurous can take on some of the paths that rise over 700ft up the steep slopes. With 360° panoramic views from most parts and distant glimpses south to France, out over the English channel, and the high weald to the north, the eye is drawn constantly from this commanding position.
In every direction burial mounds (Round barrows & Long Barrows) of ancient Iron-age chiefs and warriors litter the ridge tops. Signs of Saxon invaders and settlers are all around, giant chalk figures like the Long Man of Wilmington and the White horse of Alfriston dominate the hills as you walk in their shadows.
Nearly every turn you will discover history and links to the downs famous past residents who wandered these hills. Smugglers like Stanton Collins and Jevington Jig made their names notorious in the river valleys and villages where even today you can drink in the Inns where they hid their booty. The Bloomsbury Set and Virginia Woolf, Mad Jack Fuller and his lighthouse, Elizabeth David (the famous cookery writer), and Rudyard Kipling all lived here. Even Arthur Conan-Doyle wrote that Sherlock Holmes retired to the South Downs!
You will never find yourself short of interest in the villages and towns of the South Downs and mixed with the beautiful flower rich meadows and miles of open space, you can feel totally alone in the downland valleys.
3. How can Londoners get to the South Downs by public transport?
Train is the easiest. From London Victoria or London Bridge, trains heading towards Eastbourne are the best bet taking 1hr 25mins. With some returns at £10, it really is very easy and affordable to all.
Destinations you should head for are (in order of stations from London): Lewes (historic county town of Sussex), Glynde, Berwick, Polegate or Eastbourne.
All five stops offer easy access into the downs depending on your choice of adventure with no more than a 20 min walk (or a cheap taxi) from the stations onto the Downs.
4. Best weekend?
A great 2 day weekend adventure, taking in incredible views, history, tiny churches and fine village tea rooms and Inns would have to be Polegate to Lewes, overnighting in the Village of Alfriston, "City of the Downs"
On this hike you will discover famous resting places of Saxons, cookery writer Elizabeth David, walk past the Wilmington Giant, a 1600 year old yew tree, the smallest church in the country, smugglers hideouts, amazing village inns with fine dining and much more.
Travel
Train London Victoria: 07:47
Starting point is Polegate Station: 09:05
Return from Lewes station on Day 2.
Day 1 (7 miles): Its a short walk along the small road from Polegate, then you are off over the Downs taking in Folkington and its wonderful church with a famous grave and connections to Rudyard Kipling. Then off up over the steep climb (the Yellow route on the Google map above is for those less adventurous) and you're on top of the world with stunning views, burial mounds of Iron-age warriors, and the giant chalk figure of Wilmington, which stands proud at 256ft. Sit under the ancient yew tree (reputedly over 1600 years old) and marvel at the fine church of Wilmington.
Out across the open fields and you will come across The Sussex Ox, a splendid Sussex Inn of fine dining. You are now in the Cuckmere Vally. Head towards Alfriston, but you must make a detour to the Church of the Good Shepherd, claimed to be the smallest church in England. Over the bridge and you're in Alfriston. There is so much history here it would take a whole book to explain, so do explore. Ye Olde Smugglers was the home to Stanton Collins and is a must to see and hear his story. Alfriston is know as the "City of the Downs".
Overnight stay options:
Day 2 (14 miles): Heading out north of the village along the lane you pass the "Sanctuary", a major Saxon burial ground containing over 150 burials, discovered in 1912 when workmen were restoring the house. Head straight over the crossroads and off to Berwick. Have a look at this church, it is well worth a stop over. Turning west now you will be welcomed again by the South downs on your left, rising up dramatically like hump-backed whales! Next is Alciston with a church from the Domesday Book, passing The Rose cottage in the Village, head west towards Charleston Farmhouse, home of the Bloomsbury Set.
Still going west you are going to pass a folly tower on Firle estate before coming across Firle House, a magnificent estate in the beautiful undisturbed village of Firle. Passing the cricket field which is the oldest club in the world – founded in 1758 – a must see is the Ram Inn and the Church with its 'tree of life'.
Get ready because you're about to ascend the Downs up onto Firle Beacon! Once on top of the world you will be rewarded with 360 degree views which are absolutely breathtaking.
Now on the South Downs Way and heading west you will drop down and cross the road to the river. It was here that Virginia Woolf took her own life by drowning. Turning north, you wander along the banks towards Lewes and your finish point. Lewes is the finest town in East Sussex if not all of Sussex! Rich in history, every stone and road tells a tale. If you can, stay overnight and explore the bars, castle, battlefield of 1264 and 11th century priory, if not, come back and I will lead you on another adventure!
5. Where can people find out more about hiking in the South Downs?
Check the South Downs National Park website.
---
Many thanks to Darren, who runs Basecamp Southdowns, for this fabulous introduction.
"I am an ex-shepherd of the South Downs. Having been born in their shadow, I spent 17 years working sheep and farms on and around the downs. I have a pure passion for them, they are in my blood and I know nearly every flint and grass tuft from Beachy Head to Lewes. Having retired (at a very early age I will add) from the prison service, I now spend my time on the Downs, running, hiking and mountain biking. I am a keen photographer and trainer of dogs. I live in view of the downs and hardly a days goes by without my soles touching them.
"I am (or meant to be) building a website to promote these wonderful Downs and to inspire walking and hiking on this special area, however the draw of the Downs keeps me from my office. I have taken many guided walks and created custom walks for people. I hope you enjoy the walk, the Downs and its people, there is so much more to show you; we haven't even started on Sherlock Holmes or a Famous Pie!
As soon as I get the site up and running, you will find many many walks and history to enjoy."
Keep in touch with Darren on Twitter @basecampsdw or contact him by email at [email protected]
All photographs are courtesy of Darren of Basecamp: Southdowns
Sponsors
Escape London - click here now!
Welcome! Do you live in London and love walking? I help frustrated London-based hikers to get out on the hills by providing inspiration, ideas, practical advice and encouragement. Satisfy your hill walking cravings! Read more here

Latest Updates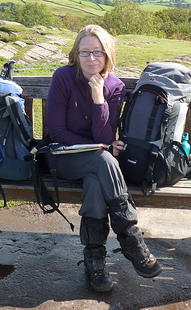 As Seen In: