Ah, the Pennine Way.
What a lot of atmosphere there is in those words!
Growing up in Tameside, and regularly doing walks in the Peak District, I was aware of the Pennine Way for a long time and it always held a great deal of mystique and charisma for me.
And although I lived in London, the Pennine Way was a huge part of my life for five years, as we completed it in sections, finally finishing in 2011.
Our first trip on the route was a long weekend which I would totally recommend for anyone wanting a taster. This walk also takes you through some iconic Yorkshire Scenery and as a bonus, you can tick off the famous three peaks as well!
In fact, this trip is so good, it made Andrew want to walk the whole of the Pennine Way!
Result!
Day 1: Gargrave to Malham
We started off at Gargrave, having got the train from Leeds. We'd stayed in Leeds the night before with a friend, but you could travel up to Gargrave in a morning and do the rest of the walk in the afternoon.
Here I am in my very cheap and unsightly waterproofs! (I now have better ones).
Although the weather was drizzly, it was so exciting to be walking in Yorkshire. I just love it there.
We walked through fields of sheep and new born lambs, joining up with the River Aire for gentle walk to Malham. I remember trying to shoo a distressed lamb back to its mother with little success. All it had to do was turn right instead of left and walk through the open fence, but it would not be moved. They really are dim aren't they?
Check out this signpost. Isn't that the smallest you've ever seen? Yes, it really is a Pennine Way signpost!
It didn't take long to get to Malham, so we warmed ourselves up in the Pub for bit.
As we had some time left before it got dark, we decided to take a walk to two of Malham's famous beauty spots, Janet's Foss and Gordale Scar.
Day 2: Malham to Horton-in-Ribblesdale
The next day we were following the Pennine Way all day from Malham to Horton.
As it was March, there was nobody about. Incredibly, we had Malham Cove all to ourselves. It was wonderful. This place is normally heaving with tourists.
After a climb up to the top of the Cove, you reach the famous limestone pavement, with spectacular views of the local area.
…and then through the equally impressive Watlowes Valley:
Soon, we were out in the kind of countryside the Pennine Way is famous for: wild, dramatic moorland, heading towards Fountains Fell. This is me looking at a 'shake hole', a geological feature common to the area.
And eventually we got to the summit where there is a pretty impressive cairn:
And I attempted to re-fold the map:
Over the other side of Fountains Fell, we followed the trail as it went up Pen-Y-Ghent.
It's at this stage on the Pennine Way when walkers get to that stage of the walk, and are tempted to bypass the peak altogether. The route takes a significant detour to go up Pen-Y-Ghent and at that point Horton is a short walk away. Hmm, you think, is it worth going up there? Really? When Horton's cozy pubs are so close… and there's bound to be no view at the top anyway…
But no! The integrity of the route must be respected!
So up we went.
Oh look! No view at the top. Typical. Oh well. Never mind.
And finally we entered Horton. The Cafe here is a famous walker's cafe, by the way. You can get all sorts of useful things there and it has signing in books for the Pennine Way dating back to the beginning.
Day 3: The other two peaks
The three peaks is a famous challenge walk whereby you have to do all three peaks in one day. In the pub over breakfast, we overheard some fellow guests chatting about members of their party who'd set off earlier in the morning to get going on it. One of them came back after half an hour…
As for us, we'd now done one of Yorkshire's famous three peaks yesterday, and today we were taking in the other two: Ingleborough and Whernside.
Here we are heading up towards Ingleborough:
And leaving the summit to come down the other side:
There is a very steep climb down, which is very busy due to the popularity of the three peaks walk.
Whernside becomes visible ahead of you as you come down the path:
You then cross the valley through a nature reserve. There is a pub half way along should you need refreshments too!
And of course, you get views of the fabulous Ribblehead viaduct.
Starting to go up Whernside, it's a bit of a slog but not too hard, you just have to keep going.
From the top you get wonderful views all around. You can see where the Pennine Way heads off next, and think about whether to do the whole thing…
We followed the long ridge at the top of Whernside, and came down a long path that led towards Smithy Hill where there is an aqueduct.
You can then follow this path down towards the viaduct itself and admire it at close quarters.
You can walk all the way back to Horton, but we decided to hop on the train at Ribblehead – one stop down the line – to take us back to Horton and our lodgings for the night.
The next day, we travelled back by train (and rail replacement bus due to engineering works, but let's not dwell on that), leaving Horton and finally getting to Leeds and then London and home.
I'll leave you with the view from Horton station, which is just so incredibly inviting:
This trip is a superb walk with a lot of varied scenery and many highlights. I'd recommend it to anyone.
Just one warning though, if you are planning this, book everything way in advance because it's a very busy area and accommodation gets full very quickly, especially around bank holidays and weekends.
(p.s. If you fancy this trip, the full details are in the Walk Your Weekends!)
Sponsors
Escape London - click here now!
Welcome! Do you live in London and love walking? I help frustrated London-based hikers to get out on the hills by providing inspiration, ideas, practical advice and encouragement. Satisfy your hill walking cravings! Read more here

Latest Updates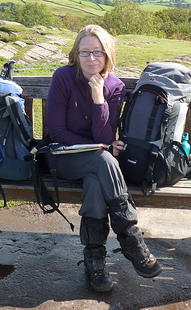 As Seen In: