London to Langdale in a (long) weekend
This weekend trip from Ulverston, ending in Langdale is highly recommended!
You could do this in a weekend or a long weekend if you book a Friday off and then travel back on Sunday midday like I did, rather than Sunday evening.
On Thursday after work I got the train from London Euston to Ulverston, arriving about 9pm, staying in the very friendly and good value Ulverston Walker's Hostel. As I was walking up a deserted road in the dark towards the Hostel, a car slowed and pulled up next to me. I was bracing myself to run away and then the driver poked his head out and said "Is it Catherine?" I looked at the car and it was covered with signs for the Hostel! He thought we'd arranged for him to pick me up from the station, and had kindly driven around looking for me.
This Hostel has free tea and coffee included in the price which is always another good bonus!
The next day (Friday), I walked on the Cumbria Way from Ulverston to Coniston for about 14 miles, staying at the excellent Coniston Holly How YHA. In the video above I show my journey from London to Ulverston, and then stop off at Beacon Tarn. I explain what my ultimate must have morale-boosting food is, explain how time seems to go slower whilst walking (in a good way!), talk about jumping over streams, why I like the Aurum Press books, and my fear of getting benighted.
Then on Saturday, I walked along the Cumbria Way again from Coniston to the Old Dungeon Ghyll at Langdale (11 miles). I then got the bus back to Elterwater and walked up to the YHA Langdale High Close hostel.
In the second video I show some of the sights of Day 2, and sitting down in Langdale in the sun, I talk about why I recommend doing weekend walks and short trips based along National Trails or Long Distance Paths. (If you've ever stayed in a Hostel I'm sure you'll also understand the ending.)
On Sunday, I walked to Ambleside passing by Loughrigg tarn, below Ivy Crag and over via Brow Head into Ambleside. As you'll see it was a bit rainy, but pah! Who cares?
I then got the bus to Windermere, hopped on the train, and came back home.
This is the book I was using, that I talked about in the video:
We already had a copy in the house, although I could have used ordinary maps instead. Ordnance Survey maps OL7 and OL6 are the ones you'd need for this section.
If you'd doing this over two days rather than three, you'd have to get the bus from Langdale to Ambleside on Sunday evening, then another bus from Ambleside to Windermere, or you could order a taxi instead. There is no mobile phone reception in Langdale but there is a pay phone at the Old Dungeon Ghyll pub. Make sure to check the bus times before you leave – the bus you'll need is the 516.
For more information on the Cumbria Way, my walking partner RamblingmanUK has a good summary and blog about the whole walk.
If you do this trip or have other suggestions for short weekend hiking trips that are possible from London, be sure to let us know!
(p.s. If you fancy doing this weekend, the full details are in the Escape London Adventure Pack)!
Sponsors
Escape London - click here now!
Welcome! Do you live in London and love walking? I help frustrated London-based hikers to get out on the hills by providing inspiration, ideas, practical advice and encouragement. Satisfy your hill walking cravings! Read more here

Latest Updates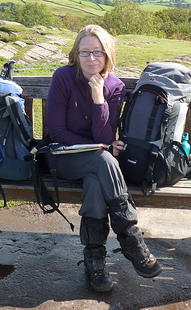 As Seen In: