The most outstandingly beautiful places to walk near London #4
When you need to escape the city, where do you head to?
You want to walk somewhere REALLY beautiful.
Somewhere that really makes you feel like you're in the heart of a unique landscape.
The answer?
Try an official 'Area of Outstanding Natural Beauty' (AONB).
There are eight close to London, possible to visit within a day. Wouldn't it make a great challenge to visit each of them?
Over an occasional series of blog posts, I'll be showcasing each one!
Today we are looking at:
No. 4: Dedham Vale
Here's a taster of what to expect from this AONB, and some 'must do' walks to experience the best of the area.
1. The Dedham Vale AONB is on the Suffolk-Essex border.
It can be reached by train from London from Liverpool Street to Manningtree (journey time approx 1 hour).
2. It's famous for being immortalised in paintings by Constable and Gainsborough.
In fact the area is often called 'Constable Country'.
"Still I should paint my own places best; painting is with me but another word for feeling, and I associate "my careless boyhood" with all that lies on the banks of the Stour; those scenes made me a painter, and I am grateful…"
– Letter to Rev. John Fisher (23 October 1821), from John Constable's Correspondence, part 6, pp. 76-78
3. Many people come to visit Flatford Mill, and view the site of the Constable's famous Haywain painting which is almost unchanged.
4. The River Stour runs through the Vale, meandering peacefully through green farmland.
"
Dedham 02-05-2009
" (
CC BY 2.0
) by 
Karen Roe
5. The landscape includes many wildflower meadows and picturesque villages.
The specialty of this area without doubt lies with its rivers and their valleys. Broad sweeping vistas, with a perhaps surprising degree of pasture and woodland, provide a gentle, understated but always interesting and pleasurable perspective.
– Steve Hallam, Focus on Constable Country
6. The River Stour is popular for boating and canoeing as well as cycling, and of course walking.
7. The Stour Valley is a haven for wildlife.
Some of the creatures found here include native black poplar, otter, water vole, dormouse, stag beetle, white clawed crayfish, skylark, barn owl and great crested newt.
8. The Stour Valley Path is a 60 mile route following River Stour through Suffolk, Essex and Cambridgeshire, including the Dedham Vale AONB.
9. A walk through this peaceful landscape has inspired people for generations.
How sweet and beautifull is every place & I visit my old Haunts with renewed delight… nothing can exceed the beautiful green of the meadows which are beginning to fill with butter Cups — & various flowers — the birds are singing from morning till night but most of all the Sky larks — How delightfull is the Country.
– Letter to his wife, Maria (20 April 1821); as quoted in Leslie Parris and Ian Fleming-Williams, Constable (Tate Gallery Publications, London, 1993), p. 28
And continues to inspire visitors today:

Video by Aussie Marco
---
Sponsors
Escape London - click here now!
Welcome! Do you live in London and love walking? I help frustrated London-based hikers to get out on the hills by providing inspiration, ideas, practical advice and encouragement. Satisfy your hill walking cravings! Read more here

Latest Updates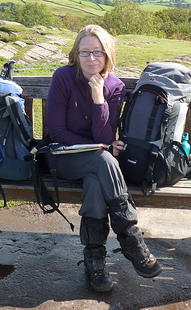 As Seen In: