The most outstandingly beautiful places to walk near London #3
When you need to escape the city, where do you head to?
You want to walk somewhere REALLY beautiful.
Somewhere that really makes you feel like you're in the heart of a unique landscape.
The answer?
Try an official 'Area of Outstanding Natural Beauty' (AONB).
There are eight close to London, possible to visit within a day. Wouldn't it make a great challenge to visit each of them?
Over an occasional series of blog posts, I'll be showcasing each one!
Today we are looking at:
No. 3: The High Weald
Here's a taster of what to expect from this AONB, and some 'must do' walks to experience the best of the area.
1. The High Weald AONB is situated between the North and South Downs.
2. The area is a patchwork of small, irregular shaped fields and ancient woodland.
by
FraserElliot
It's considered one of the best surviving medieval landscapes in Northern Europe.
3. Narrow, sunken lanes are a feature of the area; resulting from centuries of droving animals to graze
4. Ashdown Forest is one of the largest free public access spaces in the South East.
It's stunningly beautiful healthland:
by
tsbl2000
'Forest' in this case means a Royal hunting park – not a area covered with trees.
Ashdown Forest is famous for inspiring Winnie-the-Pooh!
5. The High Weald landscape trail is a 90 mile route that covers some of the major features of this AONB.
Some of the route, with a bit of tweaking, is accessible via train stations, from London.
by
drewwith
The Vanguard Way also passes through the High Weald and the best of Ashdown Forest on its way from Croydon to the Sea.
6. The Weald includes many natural wildflower meadows:
7. And at the coast, the nature reserve at Rye Harbour is a superb place for bird spotting:
by
tsbl2000
8. Eridge rocks are an interesting cluster of sandstone rock outcrops:
by
debs-eye
Best walks recap!
---
Sponsors
Escape London - click here now!
Welcome! Do you live in London and love walking? I help frustrated London-based hikers to get out on the hills by providing inspiration, ideas, practical advice and encouragement. Satisfy your hill walking cravings! Read more here

Latest Updates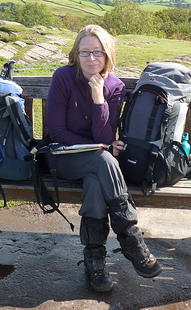 As Seen In: