The most outstandingly beautiful places to walk near London #1
When you need to escape the city, where do you head to?
You want to walk somewhere REALLY beautiful.
Somewhere that really makes you feel like you're in the heart of a unique landscape.
The answer?
Try an official 'Area of Outstanding Natural Beauty'.
There are eight close to London, possible to visit within a day. Wouldn't it make a great challenge to visit each of them?
Over an occasional series of blog posts, I'll be showcasing each one!
Starting today with…
No. 1: The Surrey Hills AONB
Here's a taster of what to expect from this Area, and four 'must do' walks.
Get there by train from:
Clapham Junction
1. Here you can climb to the highest point in south-east England, on Leith Hill:

[The view from Leith Hill Tower by Donald Macauley (licensed under CC BY-SA 2.0)]
2. Or, climb to one of the most famous viewpoints south of London: Box Hill

[View from Box Hill by Amanda Slater (licensed under CC BY-SA 2.0)]
3. Another 'must see' is the Devil's Punch Bowl, a spectacular beauty spot:

[Viewpoint overlooking the Devil's Punch Bowl by Tim Sheerman-Chase (licensed under CC BY 2.0)]
The Devil's Punch Bowl's sandy meandering paths are a delight to wander:

[Devil's Punch Bowl by Leimenide (licensed under CC BY 2.0)]
4. Yet another lovely spot to visit is St Martha's Hill, outside Guildford.

[View from St Martha's Hil by Alistair Young (licensed under CC BY 2.0)]
Most useful map:
Surrey Hills Adventure Atlas (A-Z Adventure Atlas)
---
Sponsors
Escape London - click here now!
Welcome! Do you live in London and love walking? I help frustrated London-based hikers to get out on the hills by providing inspiration, ideas, practical advice and encouragement. Satisfy your hill walking cravings! Read more here

Latest Updates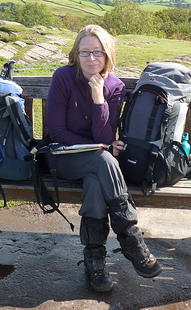 As Seen In: