Plan Your Hiking Year!
There's nothing like planning your hiking year ahead to make a cloudy, grey January less boring.
Here's some information that I hope will help you do just that!
Over at Walk Your Weekends I'm sharing ALL my best tips, resources and inspiration to propel you out of the city and on to the hills in 2015.
This is PERFECT for you if you want to hike more of Britain but:
…You're stuck in London: about as far away from hills as it's possible to get, right?
…You're new to hiking in Britain and you have no idea where to start (ex-pats especially welcome!)
…You have no TIME to research it – other things always get in the way
…You have NO CAR!
…You can't spend days away from the kids or the day job.
…You want to hike the best of Britain but don't want to join a club
Come on over to Walk Your Weekends, pop in your name in the box and I'll send you a FREE jam-packed free email series about walking the best of Britain EVEN IF you live in London – like me.
Because sometimes I miss the hills so much it hurts. And I don't think I'm the only one?
—> Join me here. <---
Sponsors
Escape London - click here now!
Welcome! Do you live in London and love walking? I help frustrated London-based hikers to get out on the hills by providing inspiration, ideas, practical advice and encouragement. Satisfy your hill walking cravings! Read more here

Latest Updates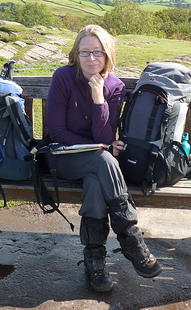 As Seen In: