Q&A: Cotswold Way in autumn?
Question:
I am actually not a frustrated London hiker, but rather a frustrated Canadian hiker.

We have plenty of trails for sure and even more nature but hikes that end in villages are non existent.

Anyway, the Cotswolds Way has attracted my interest. Question – What is it like to hike in late fall?

Is it ideal at all, in terms of scenery? Does everything turn brown like it does in Canada?
Answer:
Thanks for your question! Canada is such a beautiful country.
I haven't walked the Cotswold Way myself but is supposed to be an excellent walk.
Yes, the trees can be beautiful then! Red, gold, yellow, bronze…
I searched and here are some images which might give you an idea of what it might be like:
Obviously, the days will be shorter in autumn, and you can see the sunset times here.
But, the autumnal light can be totally stunning and there is a freshness to the air that you don't often get in summer.
I believe the Cotswold Way is a relatively gentle walk so if the weather is bad you should still be able to soldier on – unlike some other walks.
If you are interested in long distance paths in the UK, Rambling Man has some good detail on some others.
The Dales Way would be a lovely one to do in autumn; The Cumbria Way would also be a good options for a lovely autumn holiday; both can be done in a week.
Good luck!
Catherine
Sponsors
Escape London - click here now!
Welcome! Do you live in London and love walking? I help frustrated London-based hikers to get out on the hills by providing inspiration, ideas, practical advice and encouragement. Satisfy your hill walking cravings! Read more here

Latest Updates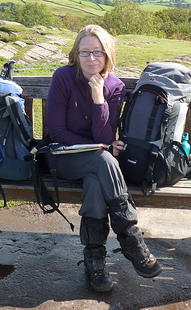 As Seen In: