Q&A: Two days on the North Downs by Oystercard?
Question
Hello there. We are students on a very tight budget! I'm wondering if its possible to get to do a 2-day walk on the North Downs Way with travel to and from covered by Oystercard?

I don't mind walking a couple of miles from station to trail, and we'd like to camp.
Answer
Ooooh… interesting question.
The North Downs Way is a perfect walk to visit by train, as it splits easily into great day sections along various train stations, so makes it perfect for day walks from London.
However, the nearest trains stations are outside the Transport for London 'zones'.
So, if you want to travel to stations in Oystercard zones only, and want to camp as well, it's a little trickier… but I've done some research and here's a possible two day plan for you, below.
Some caveats, though:
It has to be said that this is not necessarily the nicest section of the North Downs Way; it follows motorways for much of the route, especially on day one. But, it is the one that meets your criteria!
There are two options for day two, and I've explained both. Both are very long days, but would be possible for someone who is used to walking long distances carrying their camping gear, and in summertime.
Of course, you could do the walk in the opposite direction, too.
And finally, do check train times before traveling as trains will be infrequent from these stations.
Day One (10 Miles):
Travel to Tadworth station in zone 6, via East Croydon. Walk from here 2 (ish) miles to the North Downs Way, then follow the North Downs Way until just after the M23, after Merstham.
Take a path north, to the Alderstead Heath Caravan Park, where you can camp (telephone first to check!).
If you didn't want to camp, you could look for accommodation in Caterham.
Day 2, option A (17 miles):
This is quite a long day, especially carrying camping gear. But, if you're used to long days walking, you could manage it, and you'll be having an early start as you'll be camping.
Walk from Alderstead Heath back to the North Downs Way, but at Tatsfield, join the Tanbridge Border Path and follow this for 5 miles to New Addington (which is on the Croydon tram system).
Day Two option B (21 miles):
Ok this is a VERY long day so is only for the hardcore long distance hikers! But, if you're camping you'll get an early start, and it's summertime, it's certainly possible to do, if you're fit enough (but do bear in mind you'll be carrying your gear, as well).
Walk from the campsite at Alderstead Heath back to the North Downs Way, then walk 12 miles to Knockholt Pound. Head north along footpaths and quiet roads to reach Knockholt station in zone 6, where you can return to London Bridge.
Sponsors
Escape London - click here now!
Welcome! Do you live in London and love walking? I help frustrated London-based hikers to get out on the hills by providing inspiration, ideas, practical advice and encouragement. Satisfy your hill walking cravings! Read more here

Latest Updates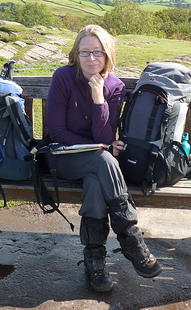 As Seen In: