Q&A: A weekend's wild camping
Question
A long weekend is coming up and I really feel like I need some of my wild urges satisfied. I'm originally from Sweden, where you can pitch up a tent basically anywhere.

Here in England it's not really the same so I wondered if you had some good tips for a short trip wild camping, one or two nights out, that is accessible from London with public transport.

Don't want to do a camping site at all so has to be somewhere where you can pitch your tent, either legally, or where you can't be found :=)
Answer
I'd suggest heading for the Peak District. It is absolutely stunning and you can get to Edale, Hope or Bamford by train, via Manchester (from Euston) or Sheffield (St Pancras) in 3 hours or so by train.
According to the Peak District National Park website, wild camping is not officially allowed.
BUT I know lots of people do it as long as they are discreet about it.
For example… Dean Read has blogged often about wild camping in the Peak District, I'd highly recommend browsing his website for ideas; it includes beautiful videos of wild camping adventures.
If you've never been to the Peak District before, try heading on to Kinder Scout from Edale. It's a flat moorland plateau, really atmospheric and beautiful with a very wild and remote feel.
I've blogged about a weekend in the Peak District too (although I wasn't camping).
In the video I made, my parents amusingly describe sleeping out on Kinder Scout in the summer, when the hostel they'd planned to stay in was full!

Alternatively… if you want something really spectacular and memorable you could maybe get the Caledonian sleeper train from Euston to the Scottish Highlands (get the one heading to Fort William), get off at the incredibly remote stations of Rannoch Moor, Corruor or the Bridge of Orchy and wild camp, returning into London early on Monday morning!
However, this is for the very serious and experienced wild camper who is prepared for potentially bleak and dangerous conditions (and midges!) so do thorough research first!
(I've got a similar long weekend in this spectacular area (but without the wild camping!) detailed in my Walk Your Weekends.)
For more inspiration, do check out Alastair Humphreys who writes regularly about microadventures, often involving wild camping or bivvying. Here's a post about doing this on a weekend, or in the Lake District.
Hope this helps!
Do you have a question? Feel free to ask me!
Photograph of wild camping on the Southern Upland Way by Rambling Man
Sponsors
Escape London - click here now!
Welcome! Do you live in London and love walking? I help frustrated London-based hikers to get out on the hills by providing inspiration, ideas, practical advice and encouragement. Satisfy your hill walking cravings! Read more here

Latest Updates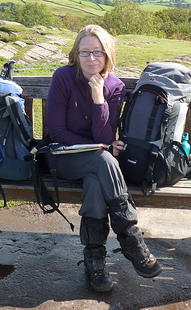 As Seen In: