An epic adventure on home turf: walking the Sussex border path
Louis Bedwell recounts an epic tale of adventure and hardship in his back yard.
I am lucky enough to live in an area of the country surrounded with endless walking opportunities. Hastings sits with a varied country park to the east, a national park some 15 miles to the west and lush countryside to the north. Perhaps my upbringing in this landscape coupled with my family's love of the outdoors kick started a healthy (depending on which way you look at it) relationship with walking.
Walking is a simple pursuit, one of happiness, adventure, exercise or pure enjoyment. It allows you to get from A to B and experience everything in between at the speed life should be taken: slowly. These had always been my views, but I'd never really acted upon them. That was until early 2013. I somewhat stupidly signed up to walk 100 km non-stop from London to Brighton. Nice one Louis.
I was pretty fit, obsessed with sport/ exercise and had competed to a pretty high level but never walked more than 10 miles at once. A problem considering I was required to walk 62 miles in under 30 hours. I trained hard, walked for 10/12 hours alone almost weekly, put in endless hours of gym exercises and pounded every inch of pavement my town had to offer. All in all I became totally consumed with the task in hand.
On May 25th I set out and some 19 hours later crossed the finish line at Brighton race course as the sun began to rise after walking from capital to coast… London to Brighton… whatever you called it, a bloody long way.
After a few days' rest, too many pieces of cake and the sudden realisation everything I did on a day to day basis was now boring, I set a new challenge. Unfortunately my mother had been diagnosed with cancer the previous winter and I took part in the London to Brighton challenge raising money for Cancer Research UK. I raised over £1,000; a decent and potentially life changing amount, but me being me, this wasn't enough. I created The One Expedition; a year long series of challenges and micro adventures all with the simple aim of raising £10,000 for the charity in question.
But what to do next?
For many months, perhaps a year, I had been fascinated with the British idea of simply escaping. It appealed, but why travel for an endless amount of hours, spending thousands of pounds to visit a country where you would inevitably spend too much money, eat a local delicacy that would upset your stomach and argue with a family member or friend about whose fault it was the sun cream wasn't applied properly and you're sunburnt?
Don't get me wrong, travel is excellent; I have recently returned from a trip to Zanzibar, but how many of us truly understand and appreciate what is around us? How many of us even know what's there?
Hastings is situated in the county of Sussex. Through various events and day trips I have been to many places within the southern lying county but never the small, perhaps unnamed and in some cases untouched areas. So In early June I decided that I would walk the entire border of Sussex, camping en route and to make it even harder for myself complete it unsupported, alone and in 8 days. I calculated this to be 230 miles (during the challenge after a few extra calculations, it turned out to be nearer 250 miles).
On July 27th after several weeks of frantic planning I set off from Hastings Pier. Heavy rain had been forecast for later that evening and my gosh it did not disappoint. As I entered the South Downs the heavens opened and decided to really show me what they were made of. Up and over the seven sisters I went; steam rose from the chalky cliffs due to the blistering day that had swiftly departed for the storm. I was soaked through.
I had decided to walk mapless for the first 3 days. All I had to do was keep the sea to my left until I ran out of land at the bottom of Selsey Bill. Good job too, as no ordinary OS map would have withstood this torrent of watery abuse.
On my first day, soaked through, I covered just over 25 miles, carrying 16kg. I was happy with this progress although a little behind schedule. The next day I awoke bright and early, there was a slight chill in the air, after all what would a British summer time be without torrential rain and balmy temperatures of 11 degrees.
I set off from Newhaven without a designated path to follow tracing the coast, fields and seafront finding my own way across the undulating Sussex coastline. I passed through the small towns and villages and eventually reached the sprawling ugly mass of Brighton Marina; perhaps not what I had expected for an outdoor adventure.
However almost 50 miles in I was feeling good and my mood was again lifted after a brief catch up with family. Fuelled and ready to go I pushed on, heading on to a now sweltering Brighton seafront, packed with locals and tourists alike. This part of the walk was mentally challenging as to be honest, it was pretty boring, and so I'll keep it brief. You won't want to repeat it.
However Brighton is a city and I was really pushing my walking and trekking boundaries within it. Take note. I continued, ending my day at Littlehampton at the delightful Youth Hostel, 60 miles in.
The next day passed without a hitch, all 47 miles of it and toward the early evening I arrived at The Sussex Border path. Built in 1987 the path runs from just outside of Chichester across the top of the county finishing at Rye. The plan was to stick to this path, camping along the way before a short hop back along the coast from Rye to Hastings the following Saturday.
As I ventured further on to the path I began to realise why no other idiot had tried to walk the whole thing in one go. It was in an awful state of repair, with stiles rotting, signs broken and those still intact making an odd appearance every 6 or 7 miles. At one point I had to climb an electric fence cutting the footpath in two and on my final day I traipsed for 90 minutes through nettles and brambles, my legs eventually numbing to the pain. I found myself starting to enjoy that subtle tingle of a nettle leaf.
Over the coming days I experienced some of the worst weather I had ever seen. Physically I was in excellent shape, I had no aches or surprisingly blisters but mentally I was beginning to struggle.
However, I pushed on with the thought firmly in my mind that Cancer patients suffer months of exhaustion, pain and suffering and if after a few days I wanted to jump on that bus and head home. I was a weak excuse of a man.
Throughout the trip being shown the kindness of strangers in villages and towns I had never heard of. Finchdean?! Who knew? I slept in a pub garden there and was overwhelmed with the support given to me.
Since finishing the walk I have been in touch with Ramblers Great Britain to voice my concerns about the path. They replied stating that in 2014 the path is set to be renovated! If only I'd have known!
Unfortunately, I didn't finish the walk. At 205 miles the true force of exhaustion took its toll. On days 1-4 I was walking for 4-6 hours at a time at a pace of 3mph- 4mph without resting; eating and refuelling on the move. On this last day the mercury topped out at 33 degrees and this factored with lack of sleep and food, slight dehydration, a disgusting path and really a task that was a heck of a lot bigger than I had ever imagined, I decided to end the walk early.
I am normally hard on myself, I often push my body until there is nothing left and still find myself dissatisfied with the results. However on this occasion I had no choice. The longer I walked, the less likely I was to reach the finish. The longer I walked the less likely I was to avoid a trip to hospital! I was happy with my efforts, delighted in fact I had given it everything. I came home to a few cries of "Oh Louis, nice attempt, unlucky to fail, maybe next time". This angered me; I am usually not bothered by the mindless words and thoughts of others. But I had selflessly pushed myself alone to the limits of my physical and mental capabilities. I later wrote this blog post to highlight the thought process behind making the call home to end the challenge.
The beauty of the trip was that I was never really more than 90 minutes from home. I had the adventure of a lifetime, both on foot and in mind and spirit, literally in my back garden.
So if you live in a city or a town, think outside of the box, you can walk anywhere: as long as you think about the journey not the distance.
---
Read more about Louis Bedwell's adventures, and support him, at The One Expedition
All photographs courtesy of Louis Bedwell.
Sponsors
Escape London - click here now!
Welcome! Do you live in London and love walking? I help frustrated London-based hikers to get out on the hills by providing inspiration, ideas, practical advice and encouragement. Satisfy your hill walking cravings! Read more here

Latest Updates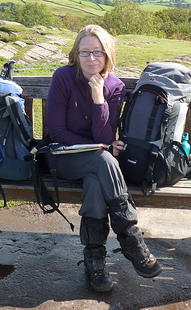 As Seen In: