Ten must dos for hikers in London
Here are ten must do walks, locations or experiences for any hiker based in London. How many have you done?
Thanks to those on Twitter who helped me compile this list. Reckon we missed anything good? Let me know!
1. Stand on top of Parliament Hill, Hampstead Heath
@LondonHiker Parliament Hill, Hampstead Heath

— A J W Smith ✝ (@AJWSmith) January 2, 2014
Parliament Hill is renowned for its great views over London.
And whilst you're there, wander round Hampstead Heath, which has a surprisingly wild feel to it.
You could get lost up here…
2. Check out the view from Alexandra Palace
The famous Palace is on a small hill, but with extremely impressive views over London (maybe better than Parliament Hill?).
It's a short walk from Alexandra Palace station or a bit longer via Wood Green on the tube.
Try the Parkland Walk, which ends (or starts) there.
3. Climb up Box Hill
Just 50 minutes from Victoria is Boxhill and Westhumble station.
Follow the North Downs Way and cross the stepping stones to take you to the famous uphill climb.
Along the climb, look back to see Denbies vineyard below and the North Downs stretching to the West.
Then at the top, check out the expansive views over Dorking and then get refreshments at the National Trust cafe before trying one of the many trails.
4. Walk the Thames Path from the Barrier to Hampton Court
This is the London section of the Thames Path, which continues to the source.
From the Thames Barrier at Woolwich, simply follow the river along through the heart of London.
It can be done in about four days of walking and is very easy to get to by public transport. It's a great way to get to know the city.
You'll see the city from a different perspective, passing by various industrial, political, and historical sites of interest as well as many major tourist spots.
(You'll also start to wonder how on earth London can cope with any more luxury river front flats…)
5. Wander in Epping Forest
This is "the people's forest"; it's a site of Special Scientific Interest and a favourite for north-east Londoners who want a bit of green in their lives.
Walks and Walking have lots of routes listed.
6. Walk the Seven Sisters
These stunning white chalk cliff on the coastal approach to Eastbourne are accessible for a day walk or a glorious two day weekend jaunt along the South Downs.
@LondonHiker @PeakToPub lovely to get train to Eastbourne & walk the Beachy Head Marathon route. — Mick & Laraine Reddy (@4DirectionsCott) January 3, 2014
7. Visit Haslemere and Blackdown
@LondonHiker Haslemere – Black Down/Marley Common/Hindhead Common all easily walkable from the station. 1hr out from Waterloo. — Jonathan Tweed (@jonathantweed) January 3, 2014
Blackdown, south of Haslmere, is the highest hill in Sussex and – somewhat strangely, because it isn't on the South Downs – the highest in the South Downs National Park.
Just 50 minutes from Waterloo, Haslemere is the start of many great circular walks (try one from the Time Out Book of Country Walks).
They also do a great beer festival, too.
8. Walk in the Chilterns
The Chilterns Area of Outstanding Natural Beauty; arguably the nearest 'proper hills' to London, (apart from the South Downs).
@LondonHiker The Chilterns AONB is a pleasant area, accessible by train from London. 🙂 — Rich Flint (@FlintyRich) January 3, 2014
Easily accessible for a day walk by train, or a longer journey.
Try walking a section of The Ridgeway over a long weekend….
Or try a day walk like this one:
@LondonHiker – Chess Valley? Pleasantly surprised when running D of E training there for Hampstead school kids last summer. — Clive Nutton (@BrightAire) January 3, 2014
Here's the details on the Chess Valley walk.
9. Take the sleeper train and wake up somewhere incredible.
From Euston, you can catch the Caledonian Sleeper and wake up in the remote Scottish highlands.
From Paddington, catch the Night Riviera sleeper and wake up in Cornwall for a blast of cliffside walking, pasties, great cosy pubs and salty air.
You might not sleep very much on the train, but oh gosh, it's fun.
10. Find your own favourite place.
This is the trick to being a hiker in London. You need to explore as much as you can until you find your own secret favourite spot.
And if you need any more ideas, I've got 50 of my own suggestions right here for you!
Good luck and enjoy walking in London!
Sponsors
Escape London - click here now!
Welcome! Do you live in London and love walking? I help frustrated London-based hikers to get out on the hills by providing inspiration, ideas, practical advice and encouragement. Satisfy your hill walking cravings! Read more here

Latest Updates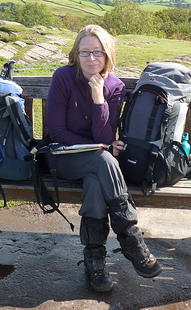 As Seen In: