Utterly Gorgeous Greenwich
A walk around Greenwich is almost mandatory if you want to walk the best of London!
The views from Greenwich Park were voted the second best view on a London walk by 24 London walking experts (coming in close behind Richmond Park!).
So if you haven't made it there yet, what are you waiting for?
---
Watch this beautiful video for some of the best sights in Greenwich Park:
Getting there
The 183 acre Greenwich Park can be reached by:
Tube & bus: North Greenwich (Jubilee Line) – then catch the 188 bus to Greenwich Park gate.
Train: Greenwich, Maze Hill and Blackheath
DLR: Cutty Sark or Greenwich
An ideal walk around Greenwich Park would take in all of these…
1. The famous views of the city
2. Admiring the deer in 'the wilderness' enclosure, at the southern end of the park:
"
P6092200
" (
CC BY-NC 2.0
) by
Matt Lancashire
3. The beautiful flower garden and rose garden:
4. And of course no trip to Greenwich would be complete without stepping over the famous Meridian Line:
For an excellent walk through Greenwich try this:
For more information visit:
---
Sponsors
Escape London - click here now!
Welcome! Do you live in London and love walking? I help frustrated London-based hikers to get out on the hills by providing inspiration, ideas, practical advice and encouragement. Satisfy your hill walking cravings! Read more here

Latest Updates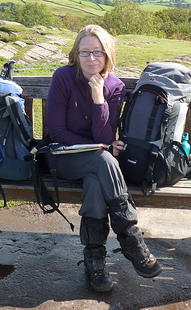 As Seen In: