9 reasons to walk the North Downs Way
The North Downs Way is a 150 mile National Trail between Farnham in Surrey to Dover on the Kent coast.
Most of it can be easily completed in day hikes from London, using train stations.
Here are a few reasons to walk this great trail.
1. Experiencing classic Downland walking.
North Downs, Kent, England by Dimitri (licensed under CC BY 2.0)
2. Seeing great views of the surrounding countryside stretching ahead of you
(In this picture, the North Downs are visible along the horizon at the left).
View from the North Downs Way looking towards Kemsing, Kent by Glen (licensed under CC BY 2.0)
3. Walking through many ancient woodlands.

Beech on the North Downs Way by Leimenide (licensed under CC BY 2.0)
4. Walking through stunning bright yellow rape seed fields.
5. Getting a bit of peace and tranquillity… like the section along this river Wey near Guildford.

North Downs Way by Neiljs (licensed under CC BY 2.0)
6. Feeling amazed at the solitude, despite being so close to London.

Setting off again by Alistair Young (licensed under CC BY 2.0)
7. Walking through bluebell woods in Spring.
8. Knowing you are following ancient paths.
9. That feeling when you finally reach the coast near Dover.
---
Sponsors
Escape London - click here now!
Welcome! Do you live in London and love walking? I help frustrated London-based hikers to get out on the hills by providing inspiration, ideas, practical advice and encouragement. Satisfy your hill walking cravings! Read more here

Latest Updates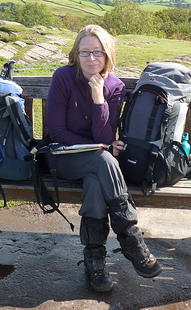 As Seen In: