Walking with the ancients
To the west of London, in Buckinghamshire, lies an 540 acres of ancient woodland which is – intriguingly – managed and owned by the City of London, about 25 miles away.
It's called Burnham Beeches, and was secured for the recreation of Londoners in 1880.
For over 130 years, Londoners and locals have been enjoying this beautiful, serene woodland teeming with natural wonders.
The area has been used for many films, including Robin Hood Prince of Thieves and the Princess Bride.
Here you'll find gnarled, ancient trees…
…including the Druid's Oak, reported to be "at least 800 years old"
"…the first thing you notice is the stillness. Crackling branches and crushed leaves underfoot are at times the only things that break that unreal silence, other times it is the whispering, the murmuring which builds in the deep dark places."
– In The Chime Hours; Burnham Beeches The Whispering Woods
Its ancient connections have given the area a somewhat 'mysterious' reputation. Infamous conspiracy theorist David Icke claimed that Burnham Beeches was where his contact witnessed British Prime Minister Ted Heath shapeshift into a reptilian during a ritual in the early 1970s! [source]
The reserve is a haven for wildlife.
…Including a great variety of fungi:
…and of course, the pollard trees provide a home for many creatures, birds and insects:
Walking in Burnham Beeches
"I can't think that Burnham Beeches won't suit everyone. It's a brilliant place to come with dogs, kids, bikes, balls and extended families. Romantic couples can ooh and ahh at the water's edge and snog behind the trees. Exhausted parents can tank up on caffeine and let their kids roam free. Ramblers can walk for hours in the 375 hectares and not get bored."
– Muddy Stilettos: A beautiful walk in Burnham Beeches
Getting to Burnham Beeches
By public transport you can take a train from Marylebone to Beaconsfield OR from Paddington to Slough (both about 30 minutes). Then catch a bus to Farnham Common (this takes about 15 minutes from Beaconsfield, or 30 minutes from Slough).
By car, it's about 50 minutes drive from central London, according to the AA journey planner.
"Autumn is possibly the best time to visit, so I just about got in with time to spare. Lovely scrunchy beech leaves underfoot, with a scattering of nuts (and mud) beneath, form a matted carpet of brown. So long as you've not come in your best trainers, it's a delight. The main access is from the east, a short walk from the long village of Farnham Common, where a large car park awaits more Bucks-style visitors."
– Diamond Geezer, Beyond London 10 (South Bucks)
"We visited another new place today for a family walk – Burnham Beeches. What a great woods this is for families. There was so much to keep Little Miss A's interest. I can't believe we were out for 3 hours!"
– Mummy on a Budget: Family Walk at Burnham Beeches
If you've got an urge to hug a tree, this is the place to go:
---
Sponsors
Escape London - click here now!
Welcome! Do you live in London and love walking? I help frustrated London-based hikers to get out on the hills by providing inspiration, ideas, practical advice and encouragement. Satisfy your hill walking cravings! Read more here

Latest Updates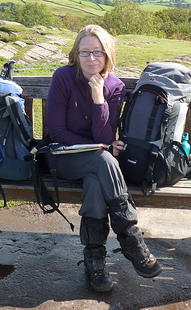 As Seen In: