Walking the Cotswold Way
Angie Macdonald shares her recent experience of walking the Cotswold Way: a National Trail just two hours from London!
What National Trail in Britain takes you through an Area of Outstanding Natural Beauty and a World Heritage site?
It's the Cotswold Way, of course, a National Trail that is 102 miles long and runs from the market town of Chipping Campden in the heart of the Cotswolds to the city of Bath.
It's the perfect trail for London hikers as in less than two hours you can be in Chipping Campden ready to begin your walk.
In September I set off with my partner, two friends and a dog named Gerald along the Cotswold Way.
What can you expect to see?
Described as a 'quintessentially English landscape' the Cotswold Way offers walkers typical picture-perfect Cotswold Villages like Chipping Campden, Broadway and Stanton. With streets lined with thatched cottages, beautifully kept gardens and solid houses built of golden Cotswold stone, the Cotswolds reflect the ultimate rural idyll.
For the first few days of the walk the path follows an escarpment overlooking the Severn Vale and the cities of Cheltenham and Gloucester. From here the views are breath-taking at times and on a clear day you can see all the way across to the Black Mountains in Wales.
The scenery along the route varies and includes miles of beech woodlands complete with overgrown and deserted quarries where once Cotswold stone was dug.
We passed fields of harvested wheat and walked through fields of corn so high it towered above our heads. Farmland stretched as far as the eye could see, with neat fields of grazing sheep divided by Cotswold dry stone walls.
The Cotswold Way is a journey through time
Today it appears that the main industry of the Cotswolds, apart from farming, is tourism. In fact, one of the first things that struck me about the route was that it was full of Canadians and small groups of fit and hearty-looking women of a certain age, ourselves included (apart from Gerald of course).
But it was not always so and walking the Cotswold Way does feel like a journey through time. The route manages to chart the history of this part of England from prehistoric times onwards. Along the way you pass two Neolithic Long Barrows, which are stone burial chambers covered by grassy mounds, as well as evidence of hill forts from the Iron Age.
The remains of Great Witcombe Roman Villa serve as a reminder of when the Romans were in Britain.
Fields of sheep are testament to the time in the Middle Ages when Cotswold wool was a highly sought after product and the wealth from the wool and cloth trade can still be seen in the form of beautiful manor houses, fine merchants' houses and even a castle; Sudeley Castle near Winchcombe.
Medieval churches and abbeys, Hailes Abbey and Bath Abbey being prime examples, reflect the fact that the church was once a powerful landowner with much of its wealth derived from sheep.
Several old mills along the way hark back to the Industrial Age and the textile industry. There is also a sombre reminder of battles that were once fought in this area. On the final leg of the walk the route passes through the English Civil War site of the Battle of Lansdown which was fought in 1643.
What is the terrain like?
The Cotswold Way is a relatively new route having only become a National Trail in 2007. At times it can be a bit frustrating as it seems to loop and double back on itself at times for no particular reason.
You should also be prepared for the steep climbs and sharp descents that appear along the route with some regularity.
One such climb takes you to the top of Cooper's Hill in Gloucestershire, the site of the annual cheese rolling competition, and another takes you up Cleeve Hill, the highest point in Gloucestershire and of the Cotswold Hills.
It's worth bearing in mind that the Cotswold Way is essentially a walk through the heart of England and because of that you're never far away from the sights and sounds of civilization. You'll spend several days overlooking the cities of Cheltenham and Gloucester from the escarpment and on the home stretch you'll be walking through the outskirts of Bath.
There'll also be times when you can see and hear the M5 in the distance and actually cross the M4, and other stretches where you're walking on roads and passing through villages. Some people may find that reassuring, especially if disaster strikes, but I would have preferred it to be more wild and isolated.
A memorable journey
The views along the Cotswold Way are memorable but what I will remember most is the happiness I felt when the sun was shining on my back, the joy of eating a picnic lunch outdoors every day, singing World War Two songs when the going got tough at the end of one particularly long day and the tremendous sense of relief and accomplishment I felt at the end when I laid my hands on the doors of Bath Abbey and knew that I could finally take off my boots and rest my blistered feet.
Which direction to walk the Cotswold Way?
The National Trail website describes the starting point of the Cotswold Way as Bath Abbey. However, we decided to follow the route in the Official National Trail Guide book by Anthony Burton and start in Chipping Campden.
The journey to Chipping Campden is rather fiddly and it felt better to be doing that at the beginning of the walk, when we were still full of energy. Also, finishing at Bath Abbey means that you're very close to a number of pubs for a celebratory drink or two and only a ten minute walk/hobble from Bath Station where there are direct trains to London Paddington.
How long does it take?
We did it comfortably in 9 days – the longest day was 15 miles and the shortest was 8 miles. We walked quite slowly and averaged about 2 miles an hour. If you don't want to rush it and still have time to enjoy the scenery and sights along the way, I recommend aiming for 7 – 9 days.
Invite your friends to join you for parts of the Cotswold Way
Because the Cotswold Way is within easy reach of London we were joined by friends on both weekends of our walk. That's another reason why the Cotswold Way is the perfect walk for Londoners – friends can drop in and out and join you for part of the walk or the entire journey.
Essential Equipment
You will definitely need a good pair of walking boots for the Cotswold Way. Bearing in mind that there are quite a few steep descents make sure they fit properly otherwise you could lose a few toenails!
Waterproof clothing is essential. Unless you're walking at a time of drought, it will rain. It might even rain a lot.
Guidebook – the Cotswold Way is very well sign-posted but at times you do need to consult a map or guidebook for a description of the route. We used The Official National Trail Guide for the Cotswold Way by Anthony Burton which was excellent.
Walking poles – not essential for some people, but I honestly don't know what I would have done without my trusty walking poles. They propelled me up the hills, steadied me on the inclines and generally helped power me along.
Other Tips
Take a packed lunch. Most days we didn't pass a pub or village at lunchtime and many country pubs only open from 6pm onwards. So you will need to buy lunch provisions when in a village or order a packed lunch from your B&B.
Don't rely on mobile phone service. Mobile Phone service is very unreliable in this part of the world so expect to be incommunicado for most of your walk. For large sections of the Cotswold Way we were unable to get a phone signal or any 3G service on smartphones. Only a few B&B's offered free Wi-Fi.
Luggage and Accommodation
It's hard enough having to lug one's own body weight around for 9 days so there was no way I was even going to contemplate carrying a heavy backpack with clothes and provisions for all that time.
We used a travel company called Contours Walking Holidays but there are plenty of other companies that offer a similar service. They booked all our dog-friendly B&B accommodation, organised for our luggage to be collected each morning and taken on to the next B&B and arranged for taxis to take us to the starting point of the day's walk if our accommodation was far away from the path.
How to Get There
There are direct trains from London Paddington to Moreton-in-Marsh (the closest station to Chipping Campden). The journey takes one and a half hours. From there you can take a bus to Chipping Campden which takes about half an hour, but buses are very infrequent. We took a taxi and were there in about ten minutes. There is no taxi rank at Moreton-in-Marsh station so you do need to book a taxi in advance to meet you.
Useful Links

The National Trail Cotswold Way website
Contours Walking Holidays
The Official National Trail Guide for the Cotswold Way by Anthony Burton
---
Angie Macdonald discovered the joys of long-distance walking in 2012 when she walked the South Downs Way with her partner, two friends and a dog named Gerald. The Cotswold Way is her second national trail and she's planning on doing a long distance walk every year from now on, if Gerald is willing.
When she's not walking she can be found writing about women's health and wellbeing issues on her Write Health website: http://writehealth.co.uk. You can also find her on Twitter @WriteHealth
All photographs copyright Angie Macdonald, used with permission.
Sponsors
Escape London - click here now!
Welcome! Do you live in London and love walking? I help frustrated London-based hikers to get out on the hills by providing inspiration, ideas, practical advice and encouragement. Satisfy your hill walking cravings! Read more here

Latest Updates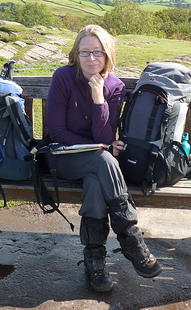 As Seen In: