Weekend Break Idea: Ambleside
Have you been meaning to visit the Lake District for the first time this year?
Ok, you've got excellent taste. The Lake District is a 'must visit' location for everyone who loves great walking and truly amazing views and you won't regret visiting.
(Yes, even if it's raining…!)
But if you asked me where to stay for your first visit, I'd have to recommend Ambleside.
Of course, if you want to camp, or are really craving a wilderness experience, or want to stay 'in the middle of nowhere' then of course that's a different matter.
But I've been visiting Ambleside for years and I've used it as the base for some incredible hiking adventures.

[Nethermost Pike by Andrew Bowden, used with permission]
And I happen to think it's a great base for a first time visit to the Lake District.
Crucially, it's possible to get there in one evening by train (and bus!) from London; so you could head up for a short break or even a weekend if you can't spend the time for a longer holiday.
I'll never forget my days bagging Wainwright fells, drinking in incredible views and exploring some of the Lake District's classic walks… not to mention eating a lot of delicious meals and cakes in the town's fab eateries.
Most recently, we've taken our son on holiday there, first as a baby and recently as a toddler.
Ok so WHY Ambleside?
1) As I said, it's easily accessible from the south (i.e. London) by train and bus.
2) It's excellent for public transport; you can take buses to many great hiking locations and tourist attractions.
One bus ride takes you here: deep into Langdale, where you'll find some classic hiking routes and fells, not to mention awesome hikers' pubs.

[Great Langdale by Andrew Bowden, used with permission]
3) It has some great restaurants, pubs and cafe's, general facilities and rainy day activities.
4) It's surrounded by fells; so you feel like you really are in the Lakes and not just on the outskirts.
Here's just one of the views you'll get from Loughrigg, one of the surrounding fells.
5) There are plenty of options for walks and exploring the countryside. Unlike some locations, you aren't trapped in one valley, but you have many choices available to you for finding the perfect walk for you.
This might include easy, short walks to picturesque spots like this (Sweden Bridge):

[Sweden Bridge by Andrew Bowden, used with permission]
…achievable hikes giving you breathtaking views…

[Stone Arthur by Andrew Bowden, used with permission]
… as well as real tough challenges like Scafell Pike (from the Langdale valley).

[Great Langdale by Andrew Bowden, used with permission]
Or you could just relax with a boat ride to somewhere really interesting:

[Wray Castle boat house by Andrew Bowden, used with permission]
Want more information?
I often get asked for my recommendations for walking in Ambleside; so I created a PDF guide to help you get the most out of your visit.
It's cheap as chips and full of my own personal best tips and honest 'been there, done that' recommendations for having a great holiday there.
The Ambleside in a Nutshell guide includes ideas for activities, rainy day activities, places to eat, how to get there by public transport or driving, getting around, and lots more.
And it contains a ton of great walking suggestions and ideas, including 8 'easy' walk ideas, 3 'medium' walk ideas, and 4 'hard' walk ideas.
I wanted to help you get the most out of your visit.
In it I answer top questions like:
Where do I get buses from?
Where can I catch buses to (and how long does it take)?
How do I get there by car?
How do I get there by train/bus?
How much can I expect to pay for parking?
Where can I hire cycles?
What are the great independent/interesting shops to look out for?
What walks can I do?
Where are the cash machines?
Where's the tourist information office?
Where is nice to eat?
What sort of activities can I do from there?
Where are the public toilets (and are any of them free)?
Are there any hostels there?
Can you camp nearby?
Where is good for getting picnic supplies for my walks?
And more.
Here's a sneak preview:
Whether you use my guide or not; I wish you a truly FANTASTIC time on your trip.
Sponsors
Escape London - click here now!
Welcome! Do you live in London and love walking? I help frustrated London-based hikers to get out on the hills by providing inspiration, ideas, practical advice and encouragement. Satisfy your hill walking cravings! Read more here

Latest Updates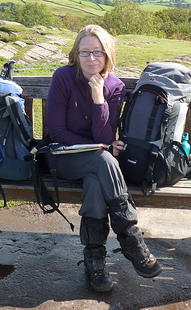 As Seen In: