Weekend Break Idea: Brecon Beacons
I honestly don't know why I'd left it so long to visit the Brecon Beacons.
It's actually a FANTASTIC hiking location for Londoners!
Here's what you need to know to help you plan a trip there:
1. It contains the highest hills closest to London.
[The Diving Board by Andrew Bowden (CC BY-SA 2.0)]
Three Brecon Beacons features in the Trail 100 list of 'must do' mountains: Fan Brycheiniog (the Black Mountain), Pen Y Fan (South Wales' highest mountain), and the Sugarloaf, outside Abergavenny.
2. It's an International Dark Sky reserve
[Stars above Pontsticill Reservoir by Alan Newman (CC BY-NC 2.0)]
…meaning you can get fantastic views of the night sky without light pollution.
3. You can get there by train
[Back side of the Fan Dance! by Les Haines (CC BY 2.0)]
From London Paddington you can reach Merthyr Tydfil (3 hr 45 mins) and Abergavenny (about 2.5 hours) are the two main stations you can reach within an evening's travel.
Abergavenny is a nicer town, closer to the Black Mountains range, known for it's great food.
Merthyr Tydfil is further from London, but is closer to the 'Beacons'.
You could perhaps have two trips, staying in each place; or even try to combine the best of both by returning from the other destination, walking between the two.
I've worked out routes & itineraries for all of these options (including rainy day options and low level walks); get it in the Brecon Beacons bonus in
my Walk Your Weekends pack
4. The Park is split into four regions.
[Brecon Beacons by Theodore Scott (CC BY 2.0)]
The Black Mountain on the west, Forest Fawr and the 'central Beacons' in the middle, and the Black Mountains on the east.
5. Must do walk?
[Dusk in the Beacons by Kris Williams (CC BY-NC-ND 2.0)]
The classic walk is a circular of the central Beacons, taking in Pen Y Fan, Corn Du, Cribyn and optionally, Fan y Big.
The usual access point for this walk is the Storey Arms / Pont ar Daf car parks (accessible by bus from Merthyr Tydfil or Brecon), or parking at the Taf Fechan Forest car park below the Neuadd Reservoirs.
6. What can my kids do?
[No. 2 train by Andrew Bowden]
It's Wales so of course there's a steam train! The Brecon Mountain Railway leaves from Pant station, which is north of Merthyr Tydfil, and heads up to the Neuadd Reservoir. You can do some short walks from there.
Another fantastic attraction is the Cantref Adventure Farm, south of Brecon. If there's two of you, one could easily be dropped off at the Storey Arms, whilst the other takes the kids to the farm. The lucky parent hiking could then easily walk back to the Farm, which you can see on the descent north from via Fan y Big.
7. Can I get around by bus?
[Crickhowell Castle by Andrew Bowden (CC BY-SA 2.0)]
Somewhat. The most useful buses go between Merthyr Tydfil and Brecon; and Abergavenny and Brecon. Although buses are not very frequent you must plan your itinerary carefully to ensure you won't be stuck at the end of your walk.
You can see details of the bus routes here.
8. What is it comparable to?
[Towards Table Mountain from Sugar Loaf by Michelle Rousell (CC BY-ND 2.0)]
Personally I found it reminded me of the Peak District (Dark Peak), but with higher and pointier hills!
I LOVED it.
Do go: you won't regret it.
Want more ideas for escaping London in your weekend?
Sign up for my free resource guide on hiking the best of Britain in your weekends
Yes, EVEN if you live in London and have no car!
Sponsors
Escape London - click here now!
Welcome! Do you live in London and love walking? I help frustrated London-based hikers to get out on the hills by providing inspiration, ideas, practical advice and encouragement. Satisfy your hill walking cravings! Read more here

Latest Updates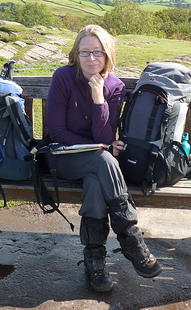 As Seen In: