4 gorgeous weekend hiking escapes from London by train
Craving a quick hiking escape from the city? Here are 4 SPECIFIC weekend hiking suggestions with TRAIN TICKET DETAILS I've researched for you.
I know one of the problems stopping a lot of people from heading off on hiking weekends is the time it takes to RESEARCH and come up with ideas.
…So I hope this helps give you lots of ideas to get you out of London and into the beautiful British countryside.
(Note: Train ticket prices might have changed by the time you read this post… and obviously if you are flexible about when you travel – i.e. off peak, during the week – you'll be able to find much cheaper tickets.)
Good luck on your travels!
1) SPRING/AUTUMN: THE STUNNING SOUTH DOWNS
Take a morning train on a Saturday from London to Lewes. From here, head to the downs, and follow them past a sequence of major beauty spots and viewpoints to the village of Alfriston. Stay here overnight, then walk to Eastbourne, taking in the Long Man and the iconic Seven Sisters white cliffs on the way, not to mention famous viewpoints like Beachy Head, Cuckmere Haven and Birling Gap. Take a train back from Eastbourne on Sunday evening. (get the full details in Walk Your Weekends)
Train London to Lewes: £11.00 – £16.00
RETURN: Train Eastbourne to London Victoria: £11.00 – £17.70
(Source: National Rail)
2) SPRING/SUMMER: THE LUSCIOUS LAKE DISTRICT
Take the train to Windermere from London, changing at Oxenholme, then a taxi to Ambleside. Stay in Ambleside or Elterwater overnight. The next day, hop on a bus to Langdale, the classic hiking valley full of iconic Wainwright fells such as Bowfell and the Langdale Pikes. Tackle the easier but still stunning Lingmoor on Sunday, then head home (get the full details in Walk Your Weekends).
Travel by train Friday, Return Sunday: £72.50
Have free time but short on cash? Travel on Saturday instead, and return on Monday evening: £40.50
(Train tickets found on Virgin Trains Farefinder)
3) AUGUST BANK HOLIDAY: CLASSIC YORKSHIRE HIKING
Travel to Gargrave (via Leeds) on Saturday morning & do a half day walk to Malham. The next day, follow the Pennine Way to Horton in Ribblesdale, climbing one of the famous Yorkshire 3 Peaks on the way. Travel back the next day, or if you can take Tuesday off too, climb the other 2 peaks and return home on Tuesday. (get the full details in Walk Your Weekends)
Train Travel: London to Gargrave Saturday morning (£41.15), return from Horton-in-Ribblesdale Monday 31st (£32.85) or Tuesday 1st September (£15.60):
(Train tickets found on Virgin Trains East Coast)
ALTERNATIVE OUTBOUND JOURNEY BY COACH: London Victoria Coach Station to Leeds Friday 28th evening (£10.00), stay in Leeds Friday night, TRAIN Leeds to Gargrave Saturday morning (£9.50):
(Coach tickets found on National Express)
4). AUTUMN: THE PRACTICALLY PERFECT PEAK DISTRICT
Head on up to the Peak District via Manchester or Sheffield, change trains and then alight at Bamford. Climb Win Hill & walk the edge of Kinder Scout to reach Edale, where you'll stay the night. Next day, walk the famous Mam Tor ridge with panoramic views of one of Britain's most beautiful national parks. (get the full details in Walk Your Weekends)
Return train London to Edale: £74.50
(Source: National Rail)
If you enjoyed this tip and would like more like this, I'd love to invite you to sign up for my free series on Hiking in Britain.
Sponsors
Escape London - click here now!
Welcome! Do you live in London and love walking? I help frustrated London-based hikers to get out on the hills by providing inspiration, ideas, practical advice and encouragement. Satisfy your hill walking cravings! Read more here

Latest Updates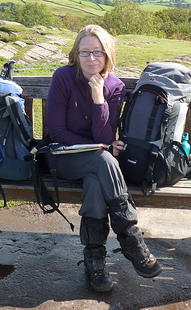 As Seen In: