8 weird ways to walk London
There are so many ways to explore London on foot, from aimless wandering, to following an official trail, or simply exploring the parks and green spaces.
But for some people, what gets them out of the front door in the morning is something a little more quirky.
Here are eight very unusual ways to explore this great city.
1. Walk Every. Single. Street.
Noelle Poulson took 65 days to walk every single street in the Congestion Charge zone; that's over 400 miles.
Now that is one way to get to know the city REALLY well.
2. Don't cross a road.

Photo by Andrew Bowden (CC BY-SA 2.0)
In The Insider's Guide to Walking in London, Victor Keegan describes a route from Trafalgar Square to the 02 Dome in Greenwich which does not cross a single road.
Could you figure out a route like this?
Want more info?
Download the FREE Insider's Guide to Walking in London here
.
3. Walk the lost rivers
Paul Talling walked the route of London's 22 'lost rivers' – many of them now Underground. And then he wrote a book about it.
Want more info?
Get the
London's Lost Rivers
by Paul Talling
4. Walk the M25

Photo by Andrew Bowden (CC BY-SA 2.0)
Not ON it, of course!
But a few folks have decided to take up the challenge of following the 118 miles of the route on foot; walking as close to the road as possible, through fields or parallel paths and tracks.
Most notably Iain Sinclair in his book London Orbital, and Alastair Humphreys, who considered it a worthy microadventure, even in the heart of winter.
Want more info?
Read
London Orbital
by Iain Sinclair, or
read Alastair Humphreys' account
.
5. Walk a tube line from end to end

Photo by Andrew Bowden (CC BY-SA 2.0)
…or even all of them?
Ian Wright completed walking the tube map in 2013 and in 2015 he completed the new 2015 map. He covered over 600 miles, and it took 229 hours and 47 mins over 39 separate walks.
Talk about good practice for the next tube strike!
Want more info?
Read about from Ian Wright's achievement here
or read the book
Walk the Lines: The London Underground, Overground
Walk The Lines by Mark Mason.
6. 'Bag' the London Borough Tops

Photo by Andrew Bowden (CC BY-SA 2.0)
Is this London's answer to munro baggging?
The London Borough Tops are a list of the highest point in each London borough. There are 33 of them.
They may not have the same kudos as the Wainwright fells, but if you're after a quirky way to get to know the city and achieve a satisfying 'tick list' too, this may be for you.
7. Walk in every postcode.

Photo by Andrew Bowden (CC BY-SA 2.0)
There are over 100 London postcodes and Stephen Benton has set out to do a walk in each one of them.
He says:
I decided to start in the SW postcodes because I realised that most of my working life has been in jobs based in SW1 and for all my adult life I have lived in SW postcodes. So I will walk first in the SW postcodes going in numerical order and work round London clockwise until I get to SE. Then I will go into the central ones of EC and WC. Who knows maybe after all that I will be strong enough to go through the outer postcodes like CR and RM. As you can see from the map, there is still quite a bit of Greater London which is outside the London post code area.
So a few grounds rules. I will aim to do a walk in each post code area which features around ten or twelve places, buildings or stories of that area. As this is a postcode walk I will start at a post office, usually the main one. I reserve the right to hop on a bus or train if this makes for a better outcome. And for those few mainly central London postcodes which have sub divisions (eg SW1A, SW1Y etc) I am only covering this once (eg as SW1) in the part of my choosing!
8. Walk to free art
There's so much to see in London, why not combine your walk with something interesting?
That's what Yvonne Craig Inskip is doing: when she walks, she walks to free art.
She writes:
I only write about art by living artists on show within walking distance of my central London flat. It must be available for anyone to see without charge, whether in a public or private gallery or any other space, inside or out…
This has so many possible permutations. Could you walk from your place to museums, galleries, or just some really great pubs? The city is full of possibilities.
The next step is down to you.
---
Sponsors
Escape London - click here now!
Welcome! Do you live in London and love walking? I help frustrated London-based hikers to get out on the hills by providing inspiration, ideas, practical advice and encouragement. Satisfy your hill walking cravings! Read more here

Latest Updates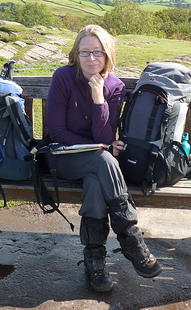 As Seen In: