What is it like to walk the London Loop?
The London Loop is a 150 mile circular trail around London.
Start and end points are easily accessible by public transport, and the sections are easily achievable in a day or half a day.
As a London based hiker you'll no doubt wonder at some point: is it worth doing?
In order to find out I spoke to YouTube video blogger oatsy40, who has been doing the walk and posting up regular video blogs about each of the sections. He's kindly taken the time to answer some questions about it, which you can see in his video below:
Check out @oatsy40 on Twitter or YouTube.
Section 19, recommended in the video, is Chingford to Chigwell, which goes through Epping Forest. More details on this section can be found on the Walk London website, and there is a PDF leaflet available to download for this section (and indeed all of the sections).
(Section 7, oatsy40's least interesting completed so far, is Banstead to Bourne Hall Park.)
Want to know more about the Loop?
I hereby present the most enlightening (and realistic) YouTube videos on the London Loop!
Number 1!
As explained above, oatsy40 video blogged many sections of the Loop. I really like these videos as they capture the experience really well and are very realistic, showing the nice parts as well as the more average parts! Do check out the whole playlist. But here's his video blog on Section 19, the recommended section:
Number 2!
YouTube user fadedglamourblog posted up videos on a group of friends doing a "London Loop in 7 days" challenge. Yes that's right. 7 days in a row. On the London Loop. Hmm. Okay!
I'd recommend watching the whole series of these videos, they're quite entertaining!
Number 3!
Here, barbaraaxt manages to get some nice shots of one of the greener sections here as well as the ubiquitous golf course.
Number 4!
And finally, this awesome time lapse video from mdmaltd:
You can find all the information you'll need (including maps) in the excellent Aurum Press guide:
My view?
I have completed about half of the London Loop, although it was a few years ago. Let's be honest, if you're really craving wilderness and hill walking, this certainly isn't the walk for you.
However, you might like it if you want something easy to do that takes you around lots of London's parks and green spaces, that you can easily fit in without having to travel a great deal or very far. It's also quite an achievement to actually complete all the sections as there are 24 of them, so it's something to keep you occupied if you fancy an ongoing challenge, and if you like the satisfying feeling of having completed a named route. I also think it's probably a good walk if you haven't done much walking, or want to try out map reading in a safe environment.
If you have a comment on this post, feel free to tweet me, or come over to Facebook and comment! (Or, of course, sign up below for more of this kind of thing!)
Sponsors
Escape London - click here now!
Welcome! Do you live in London and love walking? I help frustrated London-based hikers to get out on the hills by providing inspiration, ideas, practical advice and encouragement. Satisfy your hill walking cravings! Read more here

Latest Updates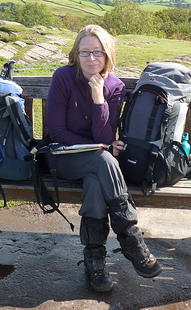 As Seen In: