20 top tips for London hikers – FREE!
I have a fantastic neeeewwwwwww freebie for my list members!
20 top tips for London hikers
It's 20 tips on 20 pages (including videos), all from my experience, covering:
The best place to get hiking maps and guidebooks in London
The 'one stop shop' London location for all your hiking gear
How to look at Ordnance Survey maps online for free
The little known way to get 1/3rd off train travel in the south-east
The 'must have' hiking gear for hiking outside of London (3 tips!)
The only book you'll ever need for day walks close to London
The 3 best London parks for pretending you are deep in the countryside
The best way to waterproof your leather boots
How to dry your boots faster
How to avoid the 'travelling light' packing mistake I made that left me going 'yuuuuuck' for 4 hours
The 'miracle cream' product I never leave out of my first aid kit… and that I once got a taxi to bring to me when I was without it
The one thing you must always check before booking into a hostel
What to do with your hiking boots when they're worn out
6 things to do when you can't get out to the hills for a while
How to go to sleep in London and wake up in the Highlands of Scotland or on the Cornish coast
3 Areas of Outstanding Natural Beauty and 3 national trails close to London
Why I think you deserve to go on regular hiking weekends… even if it does feel expensive
Sign up to my updates list and you'll get immediate access!
You'll also get:
A 16% discount code for The Escape London Adventure Pack!
An editable packing checklist for a weekend hiking, as seen in my post how to pack your rucksack in 5 minutes.
Download it, customise it, print it and save yourself stacks of time and that nagging feeling that you've forgotten your toothbrush.
Get it now!
Simply bung your email into the box below.
(p.s. Your email address is safe with me.)
Sponsors
Escape London - click here now!
Welcome! Do you live in London and love walking? I help frustrated London-based hikers to get out on the hills by providing inspiration, ideas, practical advice and encouragement. Satisfy your hill walking cravings! Read more here

Latest Updates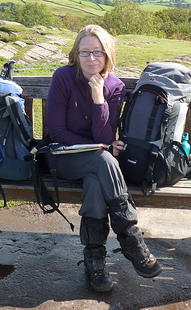 As Seen In: