Visiting or moving to Britain and planning to go hiking? Here's a simple guide to some of the things, words and places you might encounter.
A
Accents
For a small country the UK has a huge range of accents!
If you're finding it hard to understand us, don't worry, we often can't understand each other either…
Ale
Ale is the traditional beer of the UK. Usually brown or gold coloured, and served from a hand pull, many hikers enjoy quaffing a pint of ale after a good long walk.
For extra points, have it in a dimpled glass (or 'jug') like this (beard optional):
B
Beeching
The government official responsible for closing down a large proportion of the country's rail network in the 60s. He is not a popular man round these parts. Everyone thinks that our railway system went downhill since then.
His recommendations had a major impact on hiking in the UK: on the one hand, making rural locations more difficult to get to by public transport, on the other, many old railway lines are now walking or cycling routes.
Just mutter "bloody Beeching" and shake your head ruefully and you'll fit right in.
Benighted
Still out walking after the sun goes down.
Whoops.
Better get the torches out.
Bog
Soggy, black, squelchy, bouncy, muddy ground.
'Bog' sounds rather silly, but can be dangerous. It can suck you in and grip like a vice. Many a hiker has needed to be pulled out, having got stuck in it.
Hikers who like to walk the black, peaty, soggy moorland of the 'Dark Peak' in the Peak District, have been called 'bog trotters'.
White tufts of a plant called cotton grass are a sure signifier of boggy ground.
The Pennine Way, Britain's original long-distance route, used to be notorious for its bogs, with walkers sometimes falling in up to their waist and needing to be pulled out. Such tales are recounted with a kind of masochistic enjoyment (which is in itself a very British thing to do).
This is what the Pennine Way was like in the 1970s before they paved sections of it:
Although, admittedly, this happened when we walked it:
(Oh, and in the North, 'bog' is slang for 'toilet').
Bothy
A small, simple building which can be used for sleeping in, for free. Most are in Scotland and are usually in remote locations and an alternative to wild camping, they are very sparse inside, usually with no toilet or running water.
Most have a bothy book in which visitors can sign in and leave their observations.
The Scottish bothies are maintained by volunteers from the Mountain Bothy Association.
My Dad remembers when their locations were a secret and you could only find out by word of mouth from other hardcore hikers.
C
Cairn
A pyramid of rocks, usually placed to signify either the top of a hill or to help navigate along a path in mist.
Walkers will often pick up a rock and add to the cairn, but it's best not to do this as they aren't 'official' and sometimes need to be removed to preserve the environment.
Chalk figures
Seen mainly in the South of England on chalky downland, and made by exposing the white chalky ground under the grass, these giant, bright, white figures range from giant horses to men with giant penises (the Victorians often removed the penises).
Coast
Being an island, we have plenty of it.
Some fantastic long distance trails follow the coastline: the South West Coast Path in Cornwall and Devon, and the Pembrokeshire Coast Path in Wales.
In 2009 campaigners managed to persuade the Government to make a complete path around England's coast.
Sections of it opened in 2012, and the campaign continues to make sure this vision finally comes true.
Coast to Coast
Furthermore, being an island, we naturally enjoy walking from one side to the other.
There are various coast to coast routes but the most famous is Wainwright's coast to coast walk across the north of england, from St Bees in Cumbria to Robin Hood's Bay in Yorkshire.
Although this is not an 'offical' walking route, thousands come from all over the world to do it. It usually takes about 2 weeks to walk.
Coast to coast is often abbreviated to c2c on signposts.
County tops
The County Tops are the highest point in each County or region.
Some people set out to climb them all.
And then feel very smug about it.
Cow pat
Where there are cows, there are cow pats. Try not to tread in one.
Cream tea
This classic British treat consists of a pot of tea, and a scone. You cut the scone in half and put on butter, jam, then clotted cream. And it is delicious.
Clotted cream sounds disgusting, but it is looooovely: it's basically a very thick cream spread.
However, even the cream tea is rife with controversy and rivalry between different parts of the country.
We can't agree: is it pronounced scon or scone? We argue about which is the poshest – i.e. wrong – way (none of us want to be considered posh).
But that's not all: do you put jam then cream on the scone, or cream then jam? Most of the country prefers jam then cream, but people in Devon insist it should be the other way round.
Well for the record, here's my preference: scone not scon, and jam then cream.
And yes, dear visitors to these Isles, we do put cream (runny or thick/whipped) on almost every desert: crumble, pie, cake, anything really. Don't be shocked. Try it!
Crop circles
Mysterious patterns pressed into corn fields… the work of aliens or bored locals? You decide.
D
Dales
As in the Yorkshire Dales, in the north of England.
Dales are valleys, usually named after the river that runs through it, such as e.g. Wharfdale, Swaledale, Dentdale.
Think bright yellow fields of buttercups; dry stone walls; sheep; picturesque villages; inviting hills; friendly locals; beautiful walking.
Yorkshire folk like to call Yorkshire 'God's own county' and it's not hard to see why.
Downs
Weirdly, downs are the opposite of what you'd think: they are actually a long ridge of hills, not valleys.
These are usually in the south, such as the North Downs or South Downs.
Often formed from chalky land, these provide easy walking.
Downs exist amidst flat landscape, so although they are not high, they provide wonderful views of the surrounding area.
Dry stone wall
Quintessentially northern, it's hard to imagine the countryside without them.
They are exactly what you'd imagine: walls made simply by placing stones together, with nothing to stick the stones together.
It's a great skill, and they look beautiful, too.
Enjoyed this post? You will LOVE my free Hiking in Britain email series <--- CLICK HERE to find out more and sign up for FREE: OR pop your details in the box below!
Sponsors
Escape London - click here now!
Welcome! Do you live in London and love walking? I help frustrated London-based hikers to get out on the hills by providing inspiration, ideas, practical advice and encouragement. Satisfy your hill walking cravings! Read more here

Latest Updates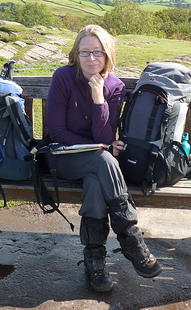 As Seen In: