Why you CAN (and should) go hiking on your own
One of the things that made me hesitate slightly when I first felt the craving to do more walking several years ago was the prospect of doing it alone.
Perhaps that is one of the reasons why you haven't left London to go hiking yet?
Maybe you don't know anyone else who is interested in hiking.
Perhaps you are in a relationship but your partner is just not a hiking sort of person.
Maybe you're nervous about whether it is safe.
The simple answer is of course, go hiking with a group.
But I know that doesn't always suit everyone. Sometimes what you are really after is solitude, peace and quiet, and the fields and paths to yourself.
A big benefit of going hiking, after all, is to have a break from the hustle, bustle and chatter of London life.
(By the way, if you want to explore Britain's best hiking areas on your own and not with a group, I've made a series of guides to help you plan your trips).
But if you still have doubts, here is what I would say about walking alone:
What it someone attacks me?
This is especially a concern for women, since unfortunately it is still the case that we are discouraged from heading off on adventures alone much more than men are.
The media, and social attitudes, tell us we're constantly in danger, and urge us to limit the scope of our adventures in case we get attacked and if we do then it's our fault for being there in the first place.
You know the drill: don't go out alone, don't walk alone at night, don't go into 'strange' areas, don't do this, don't do that.
Thing is, you can't live your life in a cage. This is YOUR one, precious life. If some part of you is desperate to be out there in the beauty of the countryside, feeling the wind on your face and breathing the fresh air, why should you not have that in your life?
In practice, I have felt very safe walking alone in the countryside, much more so in fact than in suburban areas and down dark streets.
I have been harassed on busy streets in London with hundreds of people around on several occasions, but never whilst out walking.
Tell yourself logically, what is the likelihood that someone is going to be waiting behind a hedge on a remote hillside where hardly anyone goes for hours and hours just on the small chance that someone might pass by to attack?
The risk is greater when you leave your house in the morning and walk down the street, but you don't stop doing that, and quite right too.
(Disclaimer: I'm a white, relatively privileged woman who hasn't experienced racism or other types of discrimination, so I know I am much luckier than many people. If you have particular concerns or worries it may be worth seeking out a hiking group for people similar to you and asking their advice and thoughts on their experiences walking in the British countryside).
Is it safe?
This is a sensible concern and actually if you are thinking about this, this is probably a good sign because it shows you are aware of the potential dangers.
It's true that if you got into difficulties whilst walking on your own, the danger is much greater than if you had other people with you to go and get help.
The answer is to take sensible precautions. Make sure you are prepared, have a map, have the right equipment and know what to do in an emergency. Check out the Mountain Rescue's advice page, follow the advice, and don't overestimate your capabilities. Know your escape routes, and review the route beforehand. Be prepared to change your plans if necessary.
So basically if you're a beginner, do gentle walks first and gradually build up to greater challenges rather than head straight up Ben Nevis on your first outing.
This year I walked The Dales Way on my own whilst 18 weeks pregnant. I was prepared, knew what to do in an emergency and was ready change my plans or stop if I had to.
And by the way, it was great.
Er, won't people stare at me?
Not really!
You might feel a bit self-conscious at first, but you'll get used to the feeling.
In popular walking areas like the Lake District and Peak District, people won't even notice you, and if they do and are looking at you they're probably looking with admiration and respect rather than judgement.
In fact I've had people (women actually) tell me that they admire me for being alone and that they couldn't do it themselves (obviously I think they totally could).
I've gone into country pubs on my own, sat there and had a drink and a meal, and no-one has bothered me. I tend to take a book or something to read and just relax and mind my own business.
Also, if you stay in a hostel, they are very used to people travelling alone and it's really common. You won't seem out of place at all.
I can't go away or do something without my partner!
Why not?
Seriously?
Why?
You don't have to be attached at the hip or do everything together all the time to have a great relationship.
Personally I feel that it's healthy to have time alone; not to get away from your other half or have a break from them (although that might ring true for you!) but for me the driver is to get closer to myself (keep reading for more of what I mean on this).
Does your partner do things that doesn't involve you? Shopping, golf, spending the day in a spa, going to a football match or whatever, going out with groups of their friends?
Well then why shouldn't you do this thing that you love?
Families and friends might look bemused when they hear of your solitary trip.
"Didn't s/he want to come too?" they ask. Why would you want to be alone anyway? Their confusion flickers across their faces. Is something wrong, they wonder?
But we know that fulfilment is often most effective when it is found from deep within ourselves. We love our spouses, family and friends dearly but sometimes it s good to keep in touch with the inner part of ourselves too.
And that's why, every so often, I pack my rucksack, lace up my boots, book that train ticket and head off on my own walking adventure in the countryside.
Why I love hiking on my own
Why do it?
Obviously for the fantastic views, the experiences and the memories.
But moreover, doing this gives me a sense of self esteem, self reliance, confidence and happiness.
Whether it's sunny or terrible rain, knowing I've achieved something amazing by myself – walked from point A to point B, climbed a mountain, or just simply survived the terrible weather and carried on anyway – is so rewarding.
Being on your own in the countryside can be an enlightening experience. You notice every little butterfly and flower.
You spot curious birds hovering overhead, appreciate the sounds of a trickling stream or the vivid green and brown colours of the moorland.
Your senses are alert. You are truly alive.
You can go at your own pace, get in touch with your intuition, and learn to motivate yourself to carry on.
You can let your thoughts wander wherever they feel like.
For me, walking is very much like life, or like the journey towards any deeply held dream. You have ups and downs – literally!
There are times when the going is easy, where you run for the sheer exhilaration of it. And there are times when all you can do is put on foot slowly in front of the other.
But from walking you learn that small steps can add up to something huge. All you have to do is put one foot in front of the other. And then do it again. And again. And before you know it, you've travelled miles – whether that's physically or emotionally.
You learn that there are times where the way forward is unclear, where you take notice of every little feature in the landscape to guide your way, trusting your intuition and experience.
You also learn to be flexible. The best laid plans can quite often be dashed by the weather – especially in the Lake District, one of England's most beautiful but rainy places. You learn to shrug your shoulders, go with the flow and adjust. It all contributes to a unique experience every single day you step out on the path.
And you learn perseverance. When the climb uphill seems endless and painful, you remind yourself that the pain is temporary. You know, from doing this countless times before, that it will be so worth it in the end.
You know that others are making the same journey as you. It's the same journey, but also magically unique. The paths they chose to the top may be different, the places they rested, the birds they saw, the position of the clouds above and glimmer of the sun on the lake below. All unique experiences, never to be repeated or experienced in the same way again.
The down side
The only downside really is that you can't get good photos of yourself.
Oh well.
(Is something else stopping you from going hiking? Let me know what it is.)
Sponsors
Escape London - click here now!
Welcome! Do you live in London and love walking? I help frustrated London-based hikers to get out on the hills by providing inspiration, ideas, practical advice and encouragement. Satisfy your hill walking cravings! Read more here

Latest Updates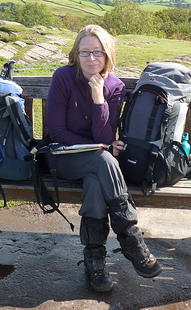 As Seen In: