What it's like to go from London to the Lake District by train
Lake District -10 Think: I've had enough. I need a break. I need to get out!
Lake District -9 Check the diary and see there's a Thursday, Friday and a weekend that seem possible.
Lake District -8 Dither. Hesitate.
Lake District -7 Ask manager 'could I have Thursday and Friday off next week?'
Lake District -6 Go online. Go 'eep!' at the price. Check different ticket times and combinations. Decide you're worth it anyway. Book tickets. It's ON! Remind self to try on new hiking boots round the house to check they're ok before going. Forget.
Lake District -5 Book accomodation. Find that the hostel in Keswick is fully booked for the nights you had in mind. Change plans and decide Grasmere will do instead. Remind self to try on new hiking boots round the house to check they're ok before going. Forget.
Lake District -2 Pick up train tickets in advance. Feel the excitement building when you see the one marked 'London terminals to Winderemere'. Get rucksack down off top of wardrobe. Work out how many socks to take. Try to find previous packing list and fail. Start a new one again. Start packing. Ask partner nervously "have I packed everything?". Clean camelbak water pouch thingy. Grimace at black bits in tube. Shove brush up it like a miniature chimney sweep. Go 'euw' at the gunk coming out of the other end.
Lake District -1 Finish final packing. Charge phone. Charge camera. Double check tickets are packed. Remind self to try on new hiking boots round the house to check they're ok before going. Forget. Get work clothes ready for next day. Squeeze everything into rucksack. Ensure change of clothes for the evening train journey is at the top.
Lake District -0
7.00 Ignore alarm
7.30 Snooze
7.50 Argh, Anne Atkins on Thought For the Day. Get out of bed.
8.30 Put on work outfit. Decide to wear new hiking boots anyway because "oh they'll be all right". Put on hiking socks and boots. Transfer keys, Oystercard and other essentials from normal coat into fleece. Put stuff needed for work into work bag. Cram work shoes into work bag. Heave rucksack on. Hang work bag off shoulder. Look around one final time. Leave house.
8.50 Think how heavy rucksack feels and attribute it to walking down suburban streets rather than a grassy path.
9.00 Shuffle extra far into the ticket gates before beeping Oystercard to accomodate rucksack.
9.02 Stand on escalator holding poles affixed to back of rucksack to ensure they don't poke anyone passing by on the left.
9.06 Get on tube. Choose flip up seat next to doors for ease of exit. Place rucksack on floor, keeping straps out of way with foot and stopping it wobbling over with free hand.
9.45 Stand up. Lift rucksack with both hands in front of body and 'hug' it to get off packed tube (having it on your back is not a good move in the rush hour at Bank).
9.55 Try to enter office subtly and stash rucksack next to desk. Take off boots and socks and replace with work shoes.
12.00 Get cash out to ensure enough for the weekend.
17.10 Rush rush rush to finish off everything.
17.15 Run into toilets, get changed into hiking outfit. Throw work clothes and shoes under desk to pick up on Monday. Double check that you've got everything.
17.30 Wave goodbye to colleagues.
17.40 Stick out like a sore thumb amidst crowd of people in suits walking down the street.
17.45 Get back on tube. Repeat same routine as in morning.
18.00 Arrive at Euston 30 minutes early: nice. Check boards to make sure your train actually exists and is on time.
18.01 Wish they'd renovate Euston like they did St Pancras and Kings Cross.
18.05 Pop to M&S to get 'train food' and snacks.
18.10 Pop to WHSmiths. Sqeeze past people in very narrow ailse trying not to stab them with your poles. Unable to decide between Country Walking and Trail. Think: "Who am I kidding, I'm probably not a Trail person any more." End up buying both anyway. Think: "That should keep Baur Media happy".
18.15 Check boards and see train is delayed coming in. Try to deduce what platform it will come into. Find rare seat and take advantage of it.
18.20 Listen to announcement about delayed train and think: "Oh well we'll see whether the Winderemere train will wait for us at Oxenholme!". Strain to listen to further announcement and be unable to hear a word of it.
18.28 Hear announcement saying your train is at total opposite end of the station. STAMPEDE!
18.29 Overtake several people and storm off towards Coach A.
18.30 Think "Why am I always in Coach A?" then notice hardly anyone getting on there. Remember: "Oh yeah… quiet coach! Exccccellent…"
18.31 Find reserved seat. YES! There's no-one next to me. Take poles off rucksack (it's easier to shelve that way). Wait politely for everyone to sit down. When they have, spread out smugly.
18.32 Notice Coach A doesn't have that horrid smell like it usually does.
18.33 We're off!
18.34 Start eating M&S pasta, pine nut & pesto salad.
18.50 Browse Country Walking. See they recommend a 'day walk' of 7 miles. scoff. Think: "Maybe I am more of a Trail person after all?"
19.15 Watch sun, fields, clouds and big skies from train window.
19.30 Take boots off and sit in socks. Ahhh
19.35 Annoucement: "We're eight, that's zero eight minutes late". Think: "Oh well we'll see whether the Winderemere train will wait for us at Oxenholme!".
19.50 Notice hot air balloon outside.
20.00 Get cup of tea.
20.05 Spill cup of tea.
20.45 Feel amazed that we've reached Preston and it's still light and sunny outside!
21.10 Pack up bits and pieces in preparation.
21.18 Get off at Oxenholme! Discover the Winderemere train is waiting on the other platform. Peg it down from Coach A. Train sets off almost as soon as you've stepped onto it.
21.19 Glue nose to window.
21.40 Get off at Windermere. Curse the lack of bus connections at this time. Get taxi to Ambleside.
21.42 Look out of taxi window at sunset over Windermere. Feel breathing get slower.
21.50 Get out at Ambleside YHA.
Look at the water.
Listen to the geese honking.
Take several, deep, slow breaths.
Think: "It's all worth it."
Sponsors
Escape London - click here now!
Welcome! Do you live in London and love walking? I help frustrated London-based hikers to get out on the hills by providing inspiration, ideas, practical advice and encouragement. Satisfy your hill walking cravings! Read more here

Latest Updates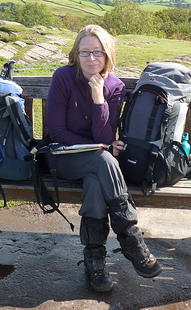 As Seen In: