Ever dreamed about escaping London?
I have.
A few years ago, the novelty of the big city had worn off and I desperately needed to see hills and do some proper walking again.
We'd ticked off all the London parks, done sections of the London Loop trail, and several day walks from the Time Out Book of Country Walks, but it wasn't enough for me any more.
I felt like I was missing out.
I needed to see hills.
And not just once a year; regularly.
What I was lacking was time. I couldn't use all my holidays going on long trips away, I just didn't have enough days to use. Also, joining a hiking club didn't interest me (I like solitude on the hills).
So in 2006 I started going on hiking weekends. I went to the Lake District, South Downs, Peak District, Isle of Wight, Yorkshire, the Pennines, and even Scotland. I did masses of research into train travel, bus timetables, the best pubs, where to stay and the most interesting routes.
Well, I've spent the last year and a half painstakingly writing all this up (slightly disrupted by having a baby!) and have now finally finished the Escape London Adventure Pack which I am launching today!
This pack contains guides for ten awesome walking weekends to get you out of the big smoke and onto the hills – all by public transport from London.
Please be assured, I'm going to continue to provide lots of free content on London Hiker in the form of regular blog posts showcasing areas you can go to, inspiring people, and tips and advice. I'm always open to guest post suggestions so please do get in touch if you have an idea to share.
But I'll sign off with this: if you've been dreaming about exploring the UK countryside and going on hiking weekends, but haven't had time to research it, this is for you. Don't put it off any longer. Get a date in your diary now, and start organising that trip!
p.s. I'm offering a £5 discount to celebrate my completion of this epic product, valid until 7th July only! To get it, put in the discount code: orrest after clicking the buy now button. Enjoy! – Update: Offer expired, sorry! Sign up to the mailing list for more offers!
Sponsors
Escape London - click here now!
Welcome! Do you live in London and love walking? I help frustrated London-based hikers to get out on the hills by providing inspiration, ideas, practical advice and encouragement. Satisfy your hill walking cravings! Read more here

Latest Updates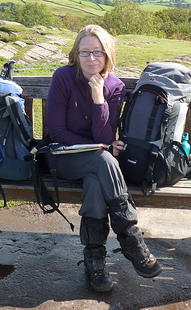 As Seen In: