London to Edale in a day: Peak District Day 1
It's a Friday morning at 6.30am (urrgggh) and I'm leaving my house in South London.
WHY? Good question.
To take the 7.55am train from St Pancras to the Peak District for a weekend's walking.
(That is the only good reason to be up and dressed at that hour, by the way.
…Also, as I'd left booking tickets till the last minute, it was a lot cheaper for me to go up in the morning rather than the evening before.)
It's only about 2 hours from London to Sheffield on the train and then another 30 minutes or so and you're right in the heart of the stunning Peak District.
It is so lovely!
You should go there soon!
On this Friday morning I left the train at Bamford station and hiked up Win Hill, then meandered eventually (and a bit lazily) to Edale Youth Hostel where I stayed the night.
As you'll see it was a pretty windy weekend all in all, but the views were wonderful, the sun was out and I was having a whale of a time strolling along the roman road towards Kinder taking photos of rainbows.
How to get there
If you want to get out there via Sheffield, check out if East Midlands Trains have any offers on. Try their best fare finder tool to work out how to get the best deal.
Also, at time of writing the YHA have a special offer of £10 beds including Edale Hostel up until the end of February 2012!
If you have any questions or comments feel free to tweet me or interact on Facebook!
In Part 2 of my peak district trip, I have some very special guests with me as we scramble up onto Kinder edge and go in search of a good pint of tea in Edale…
Sponsors
Escape London - click here now!
Welcome! Do you live in London and love walking? I help frustrated London-based hikers to get out on the hills by providing inspiration, ideas, practical advice and encouragement. Satisfy your hill walking cravings! Read more here

Latest Updates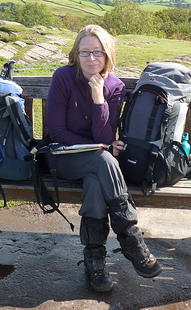 As Seen In: