London Hiker on Kinder Edge: Peak District Day 2
I'd come up from London the day before to have a weekend hiking in the beautiful Peak District, using Edale Youth Hostel as my base.
On the Saturday I met up with my parents and we did a walk along the edge of Kinder.
This wasn't a long walk by any means, but it's always nice to be on Kinder edge on the paths, weaving in between the wind-carved boulders and rocks.
We scrambled up Lady Booth Brook right behind Edale YHA up onto the edge, then walked along past Grindsbrook, over Grindslow Knoll and then down into the valley.
And what better way to end a good walk than a cup of tea and some cake at Coopers Cafe?
In Part 3, I travel along one of England's most famous long distance hiking routes…
Sponsors
Escape London - click here now!
Welcome! Do you live in London and love walking? I help frustrated London-based hikers to get out on the hills by providing inspiration, ideas, practical advice and encouragement. Satisfy your hill walking cravings! Read more here

Latest Updates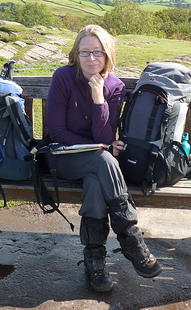 As Seen In: