Along the Pennine Way to Edale: Peak District Day 3
It was Day 3 of my long weekend in the Peak District, centred around Edale. On Day 1 I had walked from Bamford to Edale, on Day 2 I had done a short circular walk along Kinder edge.
That night I stayed over with my parents who live nearby, and the next morning they dropped me off at the Snake Pass for my final walk, following a section of the Pennine Way back to Edale again, where I was to get the train back to London, via Sheffield.
I've completed the Pennine Way, in stages over several years rather than all in one go. For me it's a very meaningful route, as it was part of my life for such a long time and completing it was such a fantastic moment, so it was great to be back again.
The most significant feature of this day's walking was the extremely strong winds. I'm not joking when I said I could barely stand up and kept being blown over. It made walking very difficult and slow going, but it was quite an experience that's for sure!
The best bit was reaching Kinder Downfall… you'll see why in the video:
If you were having your weekend based in Edale, you could do a circular walk taking in a section of the Pennine Way to Kinder Downfall and then returning. There is plenty you can do and I highly recommend a weekend there.
My photos don't do the Peak District justice. I highly recommend taking a look at Paul Newcombe's photos on Flickr for a taste of what this wonderful place is like.
My walk left me with plenty of time for a coffee in Cooper's Cafe before a short walk to Edale station, where regular trains head to Sheffield and Manchester. At Sheffield, I hopped on a train to London and 2 hours later I was back. Some of the trains start from Sheffield, which makes it easier to get a seat and a nice quiet journey back home.
(p.s. Fancy a trip to the Peak District? Full instructions for two weekends in the area are provided in the )
Sponsors
Escape London - click here now!
Welcome! Do you live in London and love walking? I help frustrated London-based hikers to get out on the hills by providing inspiration, ideas, practical advice and encouragement. Satisfy your hill walking cravings! Read more here

Latest Updates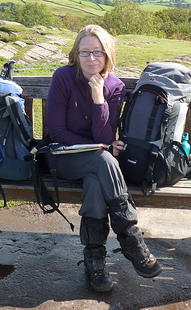 As Seen In: