Visiting or moving to Britain and planning to go hiking? Here's a simple guide to some of the things, words and places you might encounter (See Part 1 here and Part 2 here!)
M
Munro
A mountain in Scotland over 3000 feet. Named after Sir Hugh Munro, who made a list of them.
Many hardcore hikers aim to climb all 282 of them. This is known as 'munro-bagging'.
And when you get to the top of one, you obviously have to stand like this.
Mountain Rescue
A charity that provides rescue services for folks who find themselves injured on the hills.
Usually staffed by volunteer locals, these groups have saved many lives.
Morris dancers
A form of traditional country dancing.
There is something faintly silly about all the handkerchief waving, prancing and bell jangling, but it's not taken too seriously.
The morris dancers themselves just use it as an opportunity for a massive pub crawl.
Midges
Very, very, very, annoying, tiny little black flies that bite you.
Usually found in Scotland, but can be found in Northern England.
The widely recommended preventative is a moisturiser called Avon Skin So Soft, which is sometimes so in demand that it can be found for sale on the bar in Scottish pubs.
I haven't got a photo of a midge. So instead, I'll show you what you'll look like after you've been bitten by them:
N
National Trails
Official, signposted, long distance walking routes.
There are 15 in England and Wales, and 26 'great trails' in Scotland (4 of which are long distance).
Some of the most popular and famous are the West Highland Way, Pennine Way, Pembrokeshire Coast Path, and Cotswold Way.
In England and Wales they are signposted with a white acorn symbol, and in Scotland, a thistle.
One – The Thames Path – starts (or ends) in London. The North Downs Way and South Downs Way are also close to London and possible to get to for day walks.
Trails are great for walking as 1) they are generally on good paths 2) they are well signposted 3) they can be walked in bad weather as well as good 4) you get a wonderful sense of achievement (several long distance trails are used in the Escape London Adventure Pack).
Nuttals
Hills in England and Wales over 2000 feet.
Another opportunity for 'collecting' and list ticking, if you're into it.
National Trust
A major UK conservation charity which owns a large proportion of land and historic houses, preserving them and making them available to the public.
National Trust land can generally be relied upon to be well maintained and picturesque.
Its logo is an oak tree.
National Trust land is indicated on the map by the oak tree logo and a thick pale purple line.
Naismith's rule
In mainland Europe, footpath signposts tend to show a destination in terms of time it takes to walk rather than distance. In Britain, it's the opposite.
This leaves us Brits very bemused when hiking in Europe. Three hours? How do they know? But how far is it?
Anyway; Naismith's rule is a method of estimating how long a walk will take to do.
The rule is: allow 1 hour for every 3 miles (5 km) forward, plus 1 hour for every 2000 feet (600 metres) of ascent.
Personally, I usually estimate two miles per hour, and that usually proves accurate, accounting for climbs and rest stops.
O
Open access land
Land in England where you can legally wander wherever you like, without having to stick to paths. This is a relatively new development, introduced in 2005 and symbolised by this sign:
They don't have this in Scotland, because traditionally almost all land there is open access, lucky things.
Ordnance Survey
The organisation that make our absolutely excellent maps.
P
Peak District
A very popular, beautiful national park in the north of England, between the cities of Manchester and Sheffield.
Only a couple of hours away from London by train; totally possible for an awesome weekend's hiking.
Pennines
Range of hills and moorland stretching north from Derbyshire to the Scottish border, often called 'the backbone of England'.
The Pennine Way is the famous long distance route that travels along this range (see 'Bog' in Part 1).
Peat
Black soil, made from decayed vegetation.
Springy to walk on, can turn into bog in wet conditions.
Often in danger of erosion, and subject to re-vegetation projects on moorlands.
Pubs
A good walk can only be enhanced by a good traditional British pub.
Dear visitors, please note: there is (usually) no table service and you have order your food and drinks at the bar!
So don't sit there, going hungry, wondering why no-one has come to serve you. Join us at the bar!
Q
Quarry
Scattered all over the place, you'll often see 'Quarry (dis)' on the map, meaning a disused quarry.
Remnants of our industrial past are all over the British landscape.
R
Rain
We do get rather a lot of it, and you'll need to be prepared.
However, it does give us something to talk about (see 'Weather').
Road walking
When walking down a country road without a pavement, the Highway Code says you should walk on the right, facing the traffic.
Many British people do not know this, and insist on walking on the left, then you have people on both sides of the road, and traffic has to swerve around them.
Walk on the right!
Roman roads
A common feature in the UK, many hiking routes follow Roman roads, which are amazingly straight.
S
Stile
You know what this is, right? A way to cross over a wall or fence. Some of them have little lift up flaps to let dogs through!
Some are being replaced by gates in some areas, due to accessibility issues.
Stanfords
London's best shop for all the travel/outdoor books and maps you'll ever need.
It's based on Long Acre, near Covent Garden.
Stone circle
We're a bit blasé about them, but these are incredibly ancient.
Their purpose is unclear, but they have an undeniable sense of mystery and atmosphere.
Signs
Footpath signs in Britain usually look like this:
However, there are many local quirks, and home made ones are always quite cute:
In the Lake District, there are famously no signposts on the fells, in an attempt to preserve the wild atmosphere.
T
Trig point
Short for triangulation station: a concrete or stone column with a tapered top that, quite usefully, usually signifies the summit of a hill.
These were installed by the Ordnance Survey from the 1930s to facilitate their mapping techniques, before the advent of modern technology.
They are now a handy marker of the top of a hill, or a place to stand your camera to take a timed shot of yourself!
There might even be a geocache hidden nearby…
Tea shop
A good walk always has a tea shop on it.
A god tea shop has either pint mugs of tea, or fancy cups and pots; and huge slices of cakes, the bigger the better. This one – Grandma Pollards, in Todmorden – had vanilla slices the size of a shoe:
However, it's guaranteed that the more you are desperately craving for and looking forward to a tea shop, when you finally get there, it will be closed.
Is there anything worse than an unexpectedly closed tea shop? I don't think so.
Tumulus
Often marked on the map in fancy writing, these are bumpy bits of ground, earthworks from ancient times, which are often burial grounds, or remains of ancient forts and suchlike.
Britain is full of them.
Not that I'm bragging about our history, or anything…
Tarn
Another word for a small lake, usually used in the Lake District.
U
Understatement
"That walk was a bit wet" (we got soaked to the skin)
"It's a tad chilly" (our fingers have snapped off due to the cold)
"That climb wasn't too bad" (it was awful)
V
Visitor Centre
Often found in national parks or picturesque areas, Visitor Centres are useful for parking, toilets, cafes and usually have a shop, so they're a useful place to stock up before heading out.
Some of them have exhibitions about the local area.
W
Wainwright
Alfred Wainwright wrote the very famous series of walking guides to the Lake District in the 1950s and 60s, all hand drawn in beautiful pen and ink.
He was a man obsessed, and had an incredible attention to detail.
His guides are justly renowned: fells in the Lake District are now regularly referred to as 'Wainwrights', and yes, you guessed it; many people set out to climb all 214 of them.
Weather
The stereotype is true.
We love to talk about the weather.
And usually, it's so changeable there is plenty to talk about.
This is why we are constantly going on and on about what a nice day it is, as we're so surprised that the weather is actually good.
If you're ever stuck for something to say to a Brit, "Lovely day isn't it?" is guaranteed conversation starter.
X
Racking my brains…
Nope, I give up.
Y
Yorkshire
Yorkshire has already featured in Part 1 of this series.
However… it's just so lovely, it can feature twice.
Ahhhh… Yorkshire.
Z
Okay, I can't think of anything beginning with Z.
…So I'll just finish by saying this.
Welcome to Britain!
It's brilliant here. There is so much to see and do and if you like hiking, you're in the right place.
I hope you have a simply fantastic time.
Enjoyed this post? You will LOVE my free Hiking in Britain email series <--- CLICK HERE to find out more and sign up for FREE: OR pop your details in the box below!
Sponsors
Escape London - click here now!
Welcome! Do you live in London and love walking? I help frustrated London-based hikers to get out on the hills by providing inspiration, ideas, practical advice and encouragement. Satisfy your hill walking cravings! Read more here

Latest Updates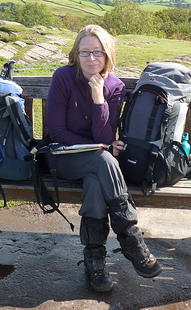 As Seen In: