You can have London AND the hills
In the back of the taxi, still buzzing from our walk up the spectacular High Cup Nick the day before, we asked the driver, a Penrith local, if he'd ever hiked up there and taken in the incredible view.
His answer? No.
"I probably should at some point" he admitted, "but I just never seem to get around to it".
I couldn't believe it.
There I was, having lived in London for over 10 years, feeling slightly jealous of people who live close to the hills after a few days on the Pennine Way.
And yet this man had lived in one of Cumbria's most beautiful areas all his life, and never been to see one of its most incredible natural wonders.
It just goes to show that for we Londoners, when it comes to satisfying your hill walking cravings, what matters most is motivation and not necessarily location.
If you love walking, living in London can sometimes feel a bit frustrating. As you browse through the suggested routes in the walking magazines, the most spectacular hill walking areas of the country can seem very far away.
Sure, there are many lovely day walks to do from London (the excellent Time Out Book of Country Walks for example).
In fact, you can find 50 of my best London walking suggestions here.
But sometimes you just crave something a bit more wild, a bit more adventurous than the type of walking you can get within a day's return from London.
Sometimes, you just miss the hills.
Of course, you can save the excitement for a long holiday, packing it all into a once a year trip. But wouldn't it be satisfying to get out there more often?
London is, in fact, a fantastic springboard for getting out and about to some lovely walking areas, and the key reason that we are so lucky is because we are at centre of a huge transport hub.
Like 40% of Londoners, I don't have a car and rely on public transport to get around, and travelling to some great walking areas is no exception.
Yes, the train fares can be expensive, but I plan ahead to get cheaper fares where possible, and I save money where I can by staying in hostels.
But most importantly, I prioritise this in my life as it's something that I absolutely love to do. I find a way to do it with just a bit of planning, even though I'm based in London.
It's a matter of priorities isn't it? Some people like to spend their free time shopping on Oxford Street every weekend. Frankly, I'll do everything I can to avoid walking down it.
But then, those people probably don't like the thought of leaping over streams, squelching through bogs, climbing fells and peeling off damp waterproofs in a cozy rural hikers pub at the end of the evening.
Never mind. More of it for me – and you.
If you have the luxury of a few spare days of annual leave to extend your weekends here and there throughout the year, a wealth of options are available to you.
Even if you don't, you can get to the hills and back in a normal weekend.
It is possible to travel into the countryside in the time that some people take to commute in to work every day.
Here are just a few of my favourite suggestions to get you started:
Approximately 1 hour by train from Victoria:
Travel to Lewes and spend two days on the final stretch of the South Downs Way, staying in the pretty village of Alfriston on Saturday night. You finish at Eastbourne, after a spectacular hike along the stunning Seven Sisters white chalk cliffs.
Approximately 2 hours by train from Waterloo:
Head to the Isle of Wight for a weekend rambling around the network of footpaths, such as The Tennyson Trail; a 15 mile walk which visits both Carisbrooke Castle and the famous Needles. Spend the evening in a cozy seaside tavern.
Approximately 3 hours by train from Euston or King's Cross:
Changing at Manchester or Sheffield, head to Edale in the heart of the Peak District. This is a fantastic and beautiful location for a wide range of walks. Head up onto the dramatic and moody Kinder Scout with its weatherworn rocks and dark peat groughs, or choose the other side of the valley for a hike along the greener Mam Tor ridge with wonderful views all around.
Approximately 3 1/2 hours by train from Euston:
It has to be the Lake District. You can get to Windermere or Ambleside in an evening after work and spend a wonderful weekend in the undisputed capital of UK hiking, travelling back on Sunday evening if necessary. The possibilities are endless; just remember to take your waterproofs!
This is just the tip of the iceberg.
And the possibilities for weekend breaks are endless (by the way, if you haven't got time to research all the options for weekends, I can help you with that too!).
Wherever you decide to go, schedule it into your diary now, book your tickets, and most importantly don't just talk about it: make it happen.
Make this the year you finally enjoy both the city AND the hills.
Sponsors
Escape London - click here now!
Welcome! Do you live in London and love walking? I help frustrated London-based hikers to get out on the hills by providing inspiration, ideas, practical advice and encouragement. Satisfy your hill walking cravings! Read more here

Latest Updates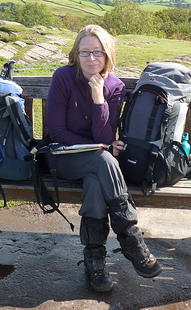 As Seen In: